We hope you will enjoy our "Prayer Note" — an internal communication here at The Cove, created each month to remind and encourage our staff to pray. We share these with you at the beginning of each month in hopes that you, too, will be encouraged.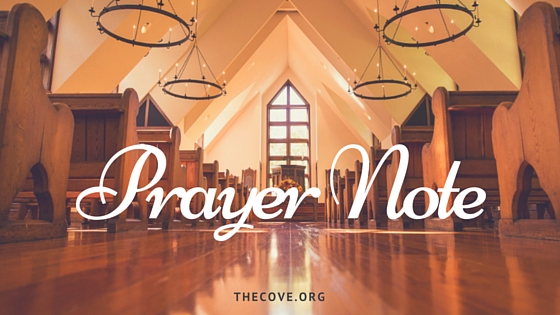 By Donna Riesen
WHEN YOU DON'T KNOW HOW TO PRAY
"In the end we shall find every promise of God perfectly fulfilled. Then why should we not let our hearts rest in peace about everything that happens? Nothing can happen that can break a single one of these precious promises. There is no promise of an easy passage, but there are promises for every day of the voyage. Each day, let us take one promise for our own, live on it, test it and prove it—and thank God for it."  —Amy Carmichael
Earlier this year I sat at a small table in a fast-food restaurant, waiting for my husband to return with our quick lunch of burgers and fries. We were on the return leg of a 9-hour journey, halfway home after having made an emergency trip to Florida to visit an aging parent who was dealing with his own serious health issues while caring for a spouse who suffered from dementia.
Gazing out the large plate-glass window opposite my table, I prayed silently for their increasingly desperate situation, asking God to intervene and bring healing, wisdom and provision. For the hundredth time, I confessed to the Lord that I didn't really know what to pray. No sooner had I said amen than I lapsed into my fallback mode of worry and anxiety, staring absently out the window while trying to figure out how to solve this impossibly tangled situation. There were serious medical issues, financial constraints, family dynamics, and logistical issues to consider. Even nutrition was a concern. While Meals on Wheels was available, I worried they might not be willing to call to request delivery as often as it was needed.
As I sat drowning in my sea of worry, the scene taking place outside the window gradually came into focus: A huge flock of birds was descending upon the gas station opposite the restaurant. The sheer number of birds initially caught my eye; then I discovered what had drawn them. A box-truck carrying crates of a popular snack chip had pulled up alongside the pump, and the driver had thrown open the back doors and was generously distributing "Meals on Wheels" to the delight of this cluster of hungry birds! I sat in amazement, watching this parable unfold in what seemed like slow-motion. The driver flung out his arms, liberally distributing provision for the flock, "over and abundantly, above all [they] could ask or think" with their tiny bird brains.
Meanwhile, my bird brain finally got it! As I "considered the birds," the Holy Spirit brought to my mind the words of Jesus in His Sermon on the Mount:
"Therefore I say to you, do not worry about your life, what you will eat or what you will drink; nor about your body, what you will put on. Is not life more than food and the body more than clothing?
"Look at the birds of the air, for they neither sow nor reap nor gather into barns; yet your heavenly Father feeds them. Are you not of more value than they?"  [Matthew 6:25-26, NKJV]
Praise God for the way He speaks so gently to us, feeding us with the manna of His Word and nourishing our spirit to strengthen and sustain us. He heard my prayer and patiently guided me away from my worries and back to His Word and His promises.
As I write this months later, I continue to struggle with the tendency toward worry. Yet I look back on the intervening days in amazement, having seen my Heavenly Father provide, uphold and sustain my earthly father. My dad is now at the beginning stages of grieving the loss of a spouse.  For long days he sat in a small room of a nursing home, gently watching over his wife as she succumbed to the debilitating disease of dementia.  The window near her bed revealed two bird feeders, often frequented by tiny, brightly-hued finches and brilliant-red cardinals.  Outside the back door of the facility, a brightly painted birdhouse held three small eggs which hatched just days before my stepmother died.  We watched as mama and papa bird made frequent trips to feed and care for their little ones. Each time I visited I prayed the Lord would use those birds to remind Dad of His promises.
Billy Graham has said, "The best way to pray is to open the Bible and pray Scripture back to the Lord, claiming His promises and asking that He strengthen and guide [us] in obeying His Word."
I pray that God will encourage you today, in whatever situation you are walking through. If you don't know how to pray, open your Bible and ask Him to speak His Words of comfort, strength and truth into your heart. Then hold tight to His promise, knowing He is holding you as you continue your journey.
"Let us then with confidence draw near to the throne of grace, that we may receive mercy and find grace to help in time of need" (Hebrews 4:16, ESV).
---
We appreciate you joining us in prayer for the following events taking place on The Cove property during the month of May:
MAY CALL TO PRAYER
SeniorCelebration: Pete Briscoe — May 8-10
Through His Eyes: Seeing as Jesus Does
Larry Crabb Seminar— May 15-17
Counterfeit Christianity: Recognizing False Teaching in Order to Live the True Gospel
Rachael Crabb Women's Seminar— May 18-19
Love: The Mark of a Christian
Jonathan Falwell Seminar— May 22-24
Finishing Strong—A Study of 2 Timothy
Henry, Richard and Mike Blackaby Seminar— May 24-26
Living Out of the Overflow
Military Marriage Retreat with Chip Ingram — Experiencing God's Best for Your Marriage – May 26-28
An Evening at The Cove Dinner and Concert with Annie Moses Band — May 28