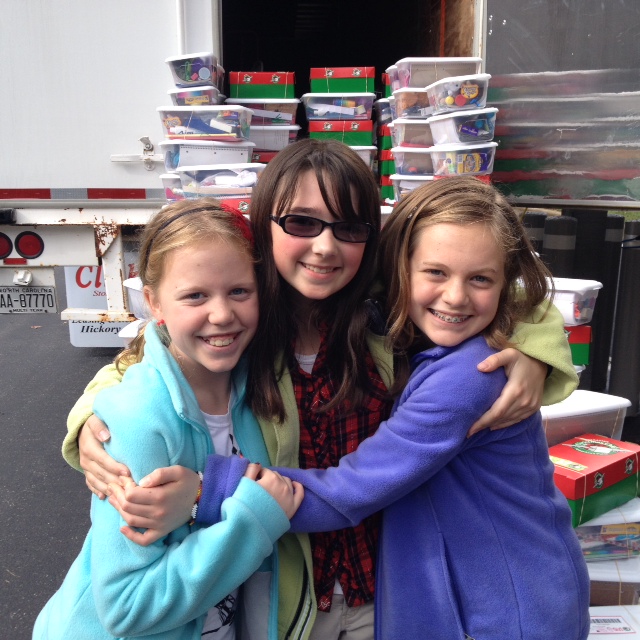 What happens when three best friends, all under the age of 12, set a goal to share the love of Christ with 100 children from around the world?
God's Spirit moves mightily.
The idea came to them last year when Lydia (age 10), Hope (age 11) and Emma (age 11) who live in Marion, NC were packing a few Operation Christmas Child shoeboxes, as they had done for many years. 
The girls decided that for Christmas 2013, they wanted to pack 100 boxes. 
100 boxes!  No small feat by any measure.
So the planning began.
They began raising funds for the contents of the boxes early in March. 
How did they raise the money?  The old-fashioned way, of course…
Yard sales, lemonade stands, showing an outdoor movie on a sheet, making Duct Tape wallets and bows to sell, and going door to door asking for donations.  
And then the fun part…time to shop!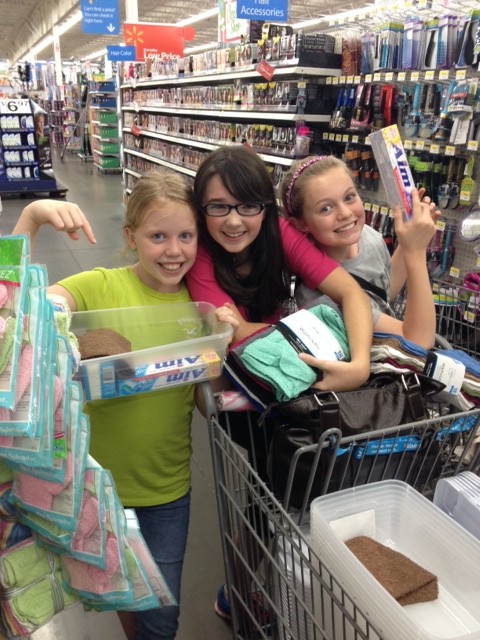 Each box contained a stuffed animal, notebook, coloring book, pencils, jump rope, bandana, washcloth, comb, toothbrush, toothpaste, tissues and other fun items they thought the children receiving would enjoy.
On November 22nd, they loaded up the truck and headed to The Cove, one of Operation Christmas Child's National Collection locations, to drop off their boxes.  Hope and Lydia had dropped off their boxes at The Cove last year and said that the experience was wonderful, so they decided to go back this year.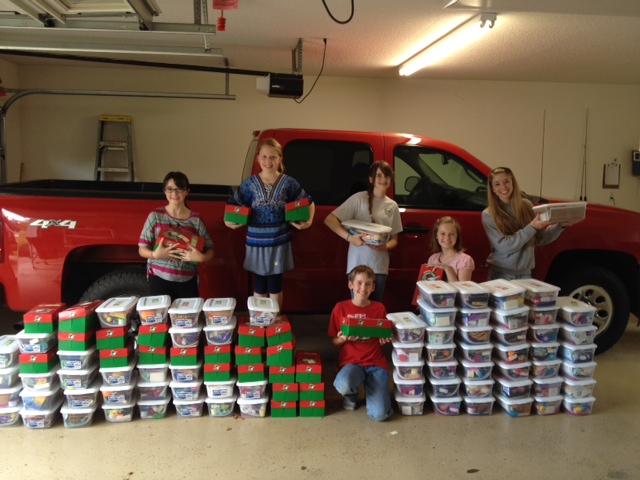 Harold was the volunteer at The Cove the day the girls came by.  Harold has witnessed a lot in his days, but seeing these girls with such beautiful hearts for the Lord brought him to tears.  Before the girls left, he asked if he could pray over the boxes.  He not only prayed for the children who would receive the boxes, but he thanked God for the children who made it all happen.
You may be wondering if the girls have a plan for next year.  Yes, they do!  They plan to pack another 100 boxes and raise enough money this time to cover the shipping fees for the boxes as well. 
Watch here as the girls tell what they enjoyed most about packing the boxes.

It's not too early to start thinking about packing your boxes for next year.  Visit the Operation Christmas Child website here for more information.