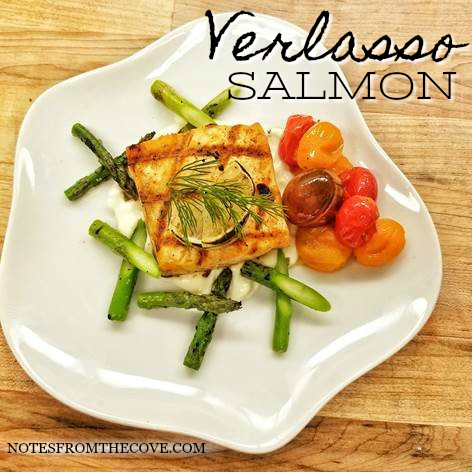 Verlasso Salmon
4oz salmon filet                                                                                                                     Season with blackening seasoning.                                                                         (Blackening seasoning is usually a mix of paprika, garlic powder, onion powder, thyme, black pepper, cayenne pepper, basil, and oregano)
The general rule of thumb for grilling salmon is to grill it for 10 minutes per inch of filet.
Cream Sauce
¼ stick butter, melted
1 shallot, finely minced
¼ cup slivered almonds
1 cup heavy cream
Heat first 3 ingredients over low-medium heat for 3-4 mins. Add 1 cup heavy cream, bring to boil, then turn down to simmer until thickened. Season with salt. Serve under salmon filet.
Lemon Roasted Asparagus
½ bunch of fresh asparagus
2 Tbsp. lemon juice
2 Tbsp. extra virgin olive oil
1 tsp. chopped garlic
Salt & pepper to taste.
Place trimmed asparagus on baking sheet. Mix ingredients well to coat asparagus. Place in 375 degree oven and bake for 10 minutes. Just before removing your salmon from the grill, throw asparagus on the grill for a minute or two.
Heirloom Cherry Tomatoes
10-12 heirloom cherry tomatoes
½ cup extra virgin olive oil
Salt & pepper to taste.
Sauté tomatoes for 2-3 minute in a pan over medium-high heat.
Top off this dish with grilled lemon slices and fresh dill!
Enjoy delicious recipes like this on your next stay at The Cove. See a full list of upcoming events at The Cove or contact our Guest Group department to hold your group retreat at The Cove.
Follow us on social media.