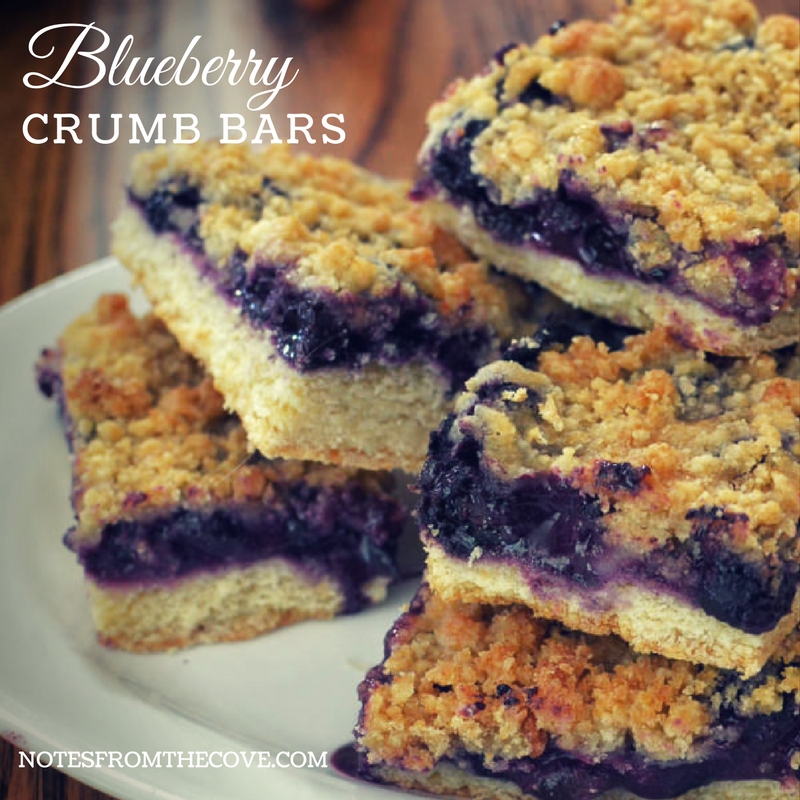 Blueberry season is upon us! Go grab your buckets and pick some of those deliciously sun kissed berries for this summer dessert served at The Cove. Let us know how yours turns out!
Blueberry Crumb Bars
Approximately 20 squares
INGREDIENTS
For Blueberry Crumble:
3 cups all purpose flour
½ cup light brown sugar
¼ cup sugar
1 teaspoon baking powder
¼ teaspoon salt
Zest of 1 lemon
8 oz unsalted butter
1 teaspoon vanilla extract
1 egg
For Blueberry Filling:
4 cups frozen blueberries
4 teaspoons cornstarch
¼ cup sugar
Juice of 1 lemon
Directions
Preheat oven to 375 degrees.
Whisk together flour, light brown sugar, sugar, baking powder, salt, and lemon zest in a bowl. Cut in butter in small amounts until mixture forms into small crumbs. Stir in vanilla extract and egg. Press HALF of crumb mixture into the bottom of a greased 9"x13" pan.
Toss all filling ingredients together in a separate bowl and spread over crust. Sprinkle remaining crumble mixture over top of blueberry filling. Bake at 375 degrees for 45-60 minutes until golden brown. Remove from oven and let cool before serving.
Enjoy delicious recipes like this on your next stay at The Cove. See a full list of upcoming events at The Cove or contact our Guest Group department to hold your group retreat at The Cove.