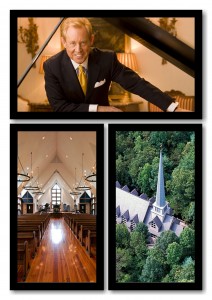 Join us on August 30th as Randall Atcheson performs a rare concert in the Chatlos Memorial Chapel here at The Cove!
Only 25 seats remain, so don't delay!
Widely acclaimed pianist/organist, Randall Atcheson, is the epitome of a musical Renaissance man. His gift and versatility for musical styles was evidenced early in life when he was recognized as a prodigy on both piano and organ. In fact, he became the only student in the history of The Julliard School ever allowed to pursue, and receive, simultaneous degrees in piano and organ performance. Atcheson has performed many times at Carnegie Hall and has traveled the world over thrilling music lovers. He is listed on the distinguished international roster of Steinway Artists.  We hope you will come and enjoy this opportunity in the intimate setting of the Chatlos Memorial Chapel.
To register call 1-800-950-2092.  For more information click here.
NOTE: As part of these evening events, we also offer an optional overnight lodging stay, at applicable rates, complete with a complimentary breakfast.
For information on all the programs and events at The Cove, visit: www.TheCove.org