We hope you will enjoy our "Prayer Note"—an internal communication here at The Cove, created each month to remind and encourage our staff to pray. We share these with you at the beginning of each month in hopes that you, too, will be encouraged.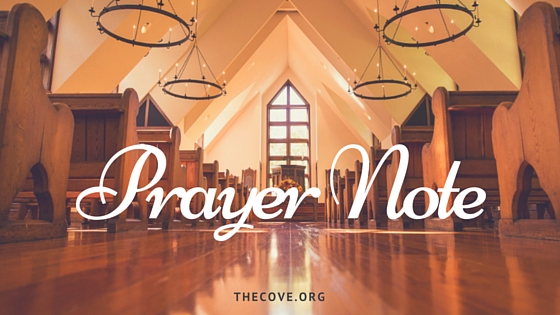 FEAR OF MISSING OUT
It drives advertising and marketing strategies, affects online and retail sales, and dominates many of our decisions, large and small. It can influence what we order in a restaurant, whether or not we'll attend a party, or where we'll buy our next house. It can drive parents to overschedule their children, college students to abandon their studies, and spouses to dissolve their marriages. From career choices to social media usage, both major and minor decisions can be affected by this little four-letter acronym: FOMO.
An abbreviation for "fear of missing out," FOMO describes the phenomenon of anxiety that results when we fear we might not be included in an exciting or enjoyable activity that others are experiencing. The phrase was coined in the early 21st century and is used mainly with regard to feelings brought on by the images of happy perfection we see on social media. At one time or another, we've all fallen victim to FOMO.
Most of us understand the positive and negative affects Facebook, Instagram and Twitter have had on our culture and collective psyche. While the upside includes increased connectedness and opportunities for online social interaction and networking, the downside can include feelings of inadequacy, anxiety and depression. To many of us, FOMO seems an unfortunate yet unintended consequence of today's constant connectivity.
FOMO ISN'T NEW
Fear of missing out existed long before the internet. In fact, FOMO has been influencing our emotions and decisions since Satan tempted Eve in the garden. Worried that God was withholding something good, Eve fell for Satan's lie and ate the forbidden fruit. (You can read the whole account in Genesis 2:15-3:24.) From that day on, we've all been subject to the negative effects of FOMO. Cain killed his brother Abel…David killed Bathsheba's husband Uriah…lots of other people killed lots of other people out of an unhealthy and ungodly fear of missing out. And it's a pretty safe assumption that even Solomon—the wisest man in the word—was a victim of FOMO, since the Bible tells us he had 700 wives! (See 1 Kings 11: 1-4.)
THE GOOD KIND OF FOMO
The Bible contains numerous accounts of individuals who experienced fear of missing out. Jacob, out of fear of missing out, deceived his father and stole his brother Esau's birthright, cheating him out of his inheritance as the firstborn.  After learning that Esau was angry enough to kill him, Jacob fled from Canaan in fear for his life. Genesis 32 gives us the picture of Jacob's return after 20 long, eventful years. Longing to see his elderly father, Jacob is arriving under the shadow of dread—fearful that big brother Esau may still be nursing a grudge. After dividing up his flocks and herds and sending a huge peace offering of livestock ahead of him to Esau, the Bible tells us that Jacob "arose that night and took his two wives, his two female servants and his eleven sons, and crossed over the ford of Jabbok. He took them, sent them over the brook, and sent over what he had. Then Jacob was left alone; and a Man wrestled with him until the breaking of day" (Genesis 32:22-24, NKJV).
Author and preacher Ray Stedman explains what came of this long night of wrestling:
"Many messages that I have read on this account have commented on the fact that Jacob was mighty in prayer because he wrestled with God all night long and thus prevailed. But I have already indicated that it is not true that Jacob wrestled with God. It is God who wrestled with Jacob, trying to break down his stubborn self-reliance, his feeling that it all depends on him, that he has got to do it or else it is not going to get done, that God is really going to do nothing in the situation.
Furthermore, Jacob did not prevail over God by wrestling. The moment of prevailing comes when his hip is broken, when he is absolutely helpless and can do nothing but hang on. That is when he prevailed with God. That is what this account is teaching us. God responds to that sense of human helplessness. This is also what Paul is teaching us in Second Corinthians, when he says, 'His strength is made perfect in my weakness, for out of weakness am I made strong,' (2 Corinthians 12:9)." (RayStedman.org)
The good kind of FOMO results when we have an encounter with God that makes us understand our own weakness and reveals to us more of His greatness. Jacob, who had spent his life trying to manipulate circumstances to his favor, finally began to understand more of who God was. God won the wrestling match and Jacob came away with a permanent limp; a greater vision of God; and a new name: Israel.
In the New Testament, Luke 19:1-10 gives us the account of Zacchaeus, a wealthy but vertically-challenged tax collector who wanted to see Jesus. Since this white-collar criminal regularly cheated and stole from those with whom he had financial dealings, it's no wonder that no one in the crowd was willing to step aside and allow him to stand close enough to see.
Zacchaeus, however, was determined not to miss out. Unable to push his way through the crowds, the diminutive money-man found a sycamore tree and climbed it to get a better view.
His persistence paid off, as Jesus looked up and announced, "Zacchaeus, hurry and come down, for I must stay at your house today."  Zacchaeus need not have worried. Verse 10 tells us that "the Son of Man has come to seek and to save that which was lost." Jesus would have found him, sycamore tree or not!
The good kind of FOMO is the kind that drives us to search for Jesus. The kind that makes us hit our knees, knowing that we need an encounter with God. The good kind of FOMO is a God-given, grace-filled discontentedness with the spiritual status quo. Far from materialistic envy, it's a recognition of our own spiritual poverty and a desire to experience "the riches of his glorious inheritance in the saints" (see Ephesians 1:18).
FEBRUARY FOMO
The best thing we can do is to begin February with a healthy dose of good FOMO—hitting our knees and seeking God as we never have before. We are honored to serve in a place where others come to seek Him, yet we can easily take for granted the privilege that is ours. Let's praise God for the opportunity to serve him here, and let's determine not to miss out on His blessing by trying to work in our own strength. God has called us to this ministry, and He will equip us with what we need to serve Him. The good kind of FOMO is the kind that God places deep within our hearts—the hunger for more of Him.
"For I know the thoughts that I think toward you, says the Lord, thoughts of peace and not of evil, to give you a future and a hope. Then you will call upon Me and go and pray to Me, and I will listen to you. And you will seek Me and find Me, when you search for Me with all your heart" (Jeremiah 29:11-13, NKJV).
Keep praying and seeking!
—Donna Riesen
"Seek the Lord and His strength; seek His presence continually. "
(1 Chronicles 16:11, NASB)
---
We appreciate you joining us in prayer for the following event that will take place on The Cove property during the month of February.
FEBRUARY CALL TO PRAYER
Women's Bible Study, Morning
Tuesday mornings through February 27
Women's Bible Study, Evening 
Tuesday evenings through February 20
An Evening at The Cove with Jason Crabb
February 18
(Emcee: Bill Wolfe)
Thank you for praying!