Tonight, you can tune in at 7:15pm ET for the first session of Dr. Jack Hayford's seminar, A New Time In A New Place…for free!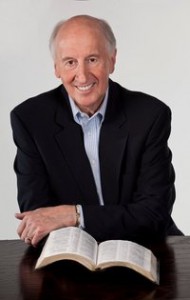 You may not be able to attend the seminar in person, but this will give you a taste of the excellent Bible teaching that takes place at The Cove in Asheville, NC.
Watch and listen as Dr. Hayford teaches from the Book of Ruth, which illustrates for us God's ways with people just like us. When facing a crossroad, you and I must decide whether to stay with the status quo or, like Ruth, follow God's call to a new time and place. Come learn how to face the challenges of unpredictable need and painful difficulty, and experience God's covenant faithfulness.
Viewers will also have the opportunity to participate in the LIVE Q&A session with Dr. Hayford.  Afterward, if you complete our short survey, you will be entered in a drawing for a CD or DVD set of the entire seminar you watched.