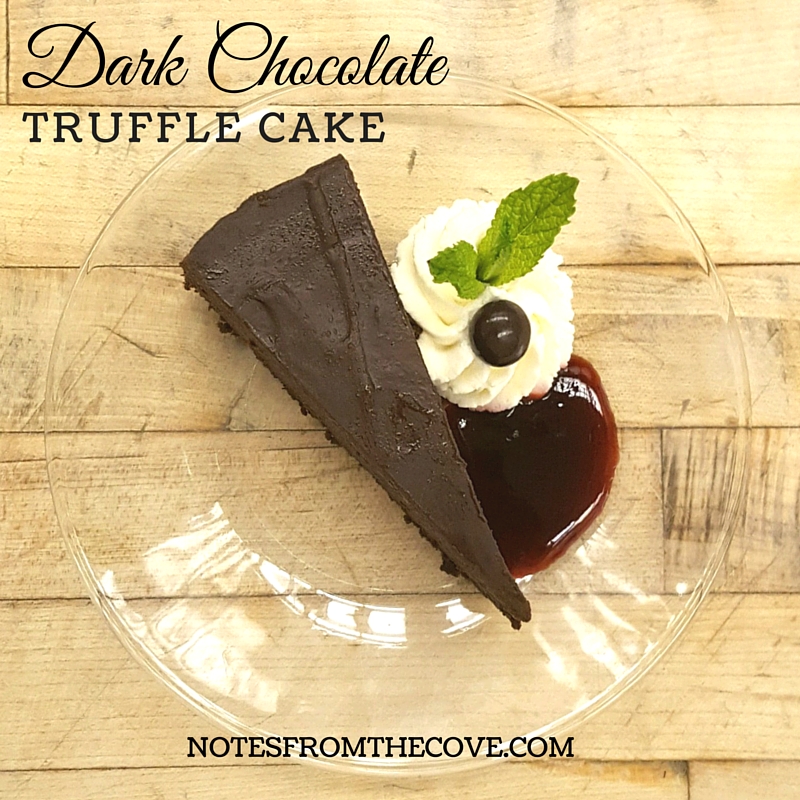 Today, our pastry chef, Natalie, shares another delicious recipe that has become a guest favorite here at The Cove.  Enjoy this delectable Dark Chocolate Truffle Cake and come back and let us know how it turns out in the comment section below!

Dark Chocolate Truffle Cake
Makes one 8-inch cake
Dark Chocolate Cake Recipe
1 ½ cups semi-sweet chocolate chips
¾ cup unsalted butter
1 cup + 2 Tbsp granulated sugar
¼ + ⅛ tsp salt
1 ½ tsp vanilla extract
1 Tbsp coffee extract
5 eggs
¾ cup cocoa powder
Chocolate Glaze Recipe
1 ½ cup dark or semi-sweet chocolate chips
¾ cup heavy cream
Preparing cake:
Preheat oven to 350°. Melt semi-sweet chocolate chips and butter in pan over medium heat. Remove from heat. Stir in sugar, salt, and both vanilla and coffee extracts to melted chocolate and butter. Once mixed, add the eggs, beating briefly until smooth. Add cocoa powder and mix until just combined. Bake in greased 8" cake pan for 25 minutes. Remove from oven and cool completely.
Preparing glaze:
Heat cream to a boil in sauce pan over medium heat. Remove from heat and pour heated cream over chocolate chips in a glass bowl. Let stand for 1-2 minutes, then whisk together until chocolate chips are melted and mixture is smooth. Spread Glaze over cooled cake. Tap cake pan a couple of times on counter to spread evenly over cake. Freeze cake overnight. Remove from freezer and from cake pan and thaw just until no longer frozen and serve.
GET A PRINTABLE VERSION OF THE DARK CHOCOLATE TRUFFLE CAKE RECIPE.
Find other recipes from The Cove kitchen.
Enjoy delicious recipes like this on your next stay at The Cove. See a full list of upcoming events or contact our Guest Group department to hold your group retreat here.