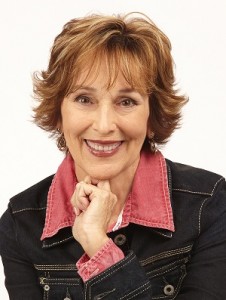 On September 8, women will converge on the Cove's campus to learn what it really means to reflect the heart of Jesus. Popular speaker and author Elizabeth George will talk about how women can do this through developing trust in God and knowing His Word. In the article below, she gives a preview of what it looks like in a daily life.
Do you have a hard time trusting God? Is it hard for you to stop in the midst of a busy day and pray? Almost everyone would answer "yes" to this question.
For women, this is particularly true.
"I think we're hyper-responsible. We carry a heavy load of responsibility, whether we're married or single, with our jobs, with our families, our in-laws, caring for failing parents, and extended family," Elizabeth explained.
"We carry so much responsibility and want to do so well at it that we take it all on ourselves. We actually start to trust in our abilities to manage it and have a good schedule that works.  We feel worthy if all our ducks are in a row.  The problem with this is that we forget to pray. We forget to involve God."
To help combat the problems of prayerlessness and worry, she will be leading a women's seminar, "Reflecting the Heart of Jesus." After all, to have a life of constant prayer and unwavering trust in God are two of the most profound qualities of Christ we can reflect.
"Jesus trusted His Father with everything and prepared for each day through prayer.  So, that's the best way we can emulate Him. We can give Him our worries for the day, and worries about the people in our lives.  We can pray over the day, pray over our problems, and pray for God's provision," she said. "I want to talk to the ladies about getting into a habit of doing these things, because this will only grow a deeper connection with God and a greater trust and love for Him."
Elizabeth George wants the message to the women during the weekend to resonate with them for the days, weeks, and even years to come. She explained that in order for them to continue praying and trusting, they must know and love God's Word.
"I want them to know the importance of growing each day in God's Word. His Word is new every morning. We may have read the Bible every year of our lives, but every day He has a new message for us; we can see things we didn't see before.
"I also want them to go home knowing that every breath God allows us to inhale should be exhaled in prayer," she continued.  "We need to be in constant communication, constant communion, thought by thought, step by step, sorrow by sorrow. The connection is always there through prayer. Ultimately trusting the Lord is a good thing. He's working for our Good. And that is my bottom line."
There is still time to join us! Register for the seminar here.
Worship leader, songwriter, artist, pianist, wife and mom, Shannon Wexelberg will be leading worship during this women's retreat!