Billy Graham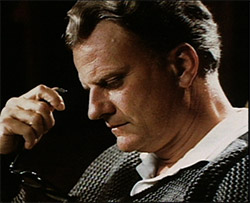 Prayer is not using God; it is more often to get us in a position where God can use us.
I watched the deckhands on the great liner United States as they docked that ship in New York Harbor.
First, they threw out a rope to the men on the dock.
Then, inside the boat the great motors went to work and pulled on the great cable.
But of course the pier wasn't pulled out to the ship; the ship was moved snugly up to the pier.
Prayer is the rope that pulls God and man together.
But it doesn't pull God down to us; it pulls us up to Him.