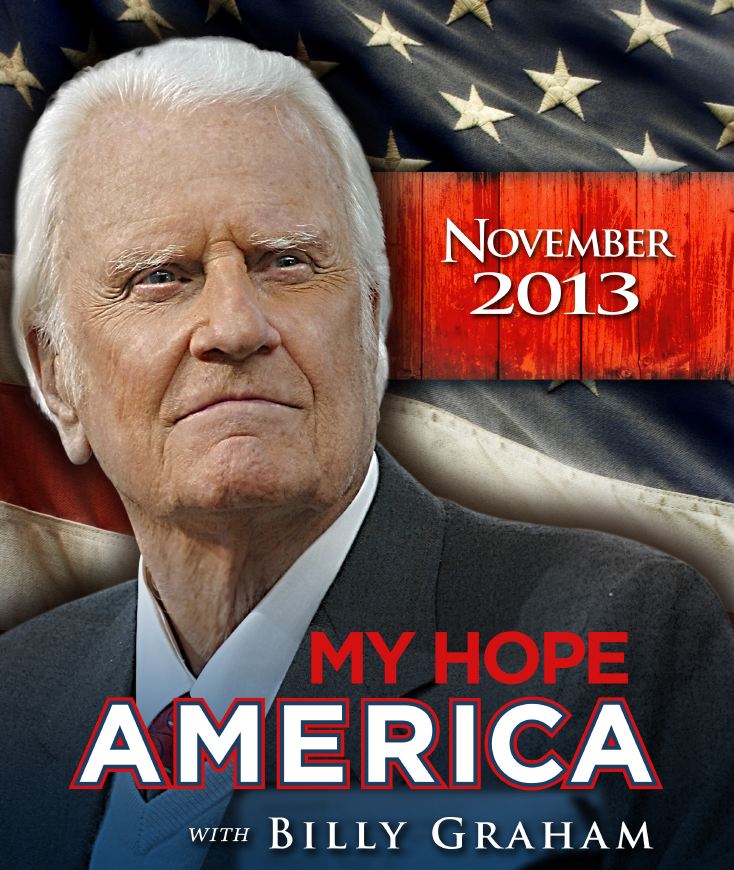 Billy Graham is calling Christians in western North Carolina to pray and prepare for My Hope America, a new nationwide evangelistic outreach, which will include an all new message from Graham in November 2013—the month he turns 95. My Hope America with Billy Graham is designed to help people share the Gospel in a comfortable environment with family, friends and neighbors.
"Already we have begun connecting with pastors, churches and individual Christians urging them to get involved," said Preston Parrish, vice president of My Hope America with Billy Graham. "We're asking them to start praying. As they do that they'll find that God will give them unexpected opportunities to demonstrate His love and to share how He has changed their personal lives."
On Tuesday March 26, the Billy Graham Evangelistic Association will host an informational meeting at The Cove. The event consists of a vision session, where participants can learn more about the project and receive key materials, and a discipleship overview, helping them learn how to make the most of this opportunity in their churches and community, which has been used for more than 60 years as part of the Billy Graham Crusades.
The event will be held at The Billy Graham Training Center at The Cove, 1 Porters Cove Road (Exit 55 off I-40), Asheville, N.C., from 9 a.m. to 12:15 p.m. on Tuesday March 26. The session is free; however, participants are required to RSVP by calling 1-877-7MY-HOPE or clicking here to RSVP online, as space is limited.
My Hope America encourages participants to open their doors and lives to people they already know—engaging in meaningful conversation and connections as a catalyst for sharing the hope and love found in a relationship with Jesus Christ. While one-on-one conversations will be the root of this relationship evangelism outreach, messages used in reinforcing the Gospel will be available in a wide range of formats including TV, radio, DVD and Internet.
In 2002, the My Hope program began when Franklin Graham asked the Billy Graham Evangelistic Association to take the Gospel country by country around the world where his father, Billy Graham, could no longer physically travel. It began in four countries in Central America. Ten years and 57 countries later, My Hope America has now become a movement spreading across the United States into cities and towns, churches and homes of Christians who have a desire to share their faith with others in their lives.
For more information on the My Hope America with Billy Graham, including additional meeting dates, news articles and evangelism resources, visit www.MyHopewithBillyGraham.org.