We hope you will enjoy our "Prayer Note"—an internal communication here at The Cove, created each month to remind and encourage our staff to pray. We share these with you at the beginning of each month in hopes that you, too, will be encouraged.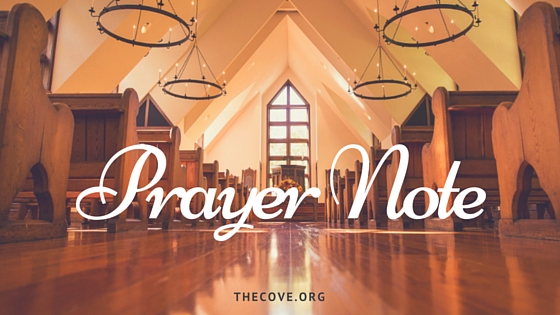 "Who's In Charge Here?"
I recently overheard the following conversation in a church sanctuary after the Sunday morning service:
"So how are the plans for the church barbeque/outreach going?"
"Pretty well, but I've looked over the sign-up sheet and there are still a few blanks. Why don't you try calling some of these people? You were an army colonel—I'll bet you could get 'em to sign up! I imagine people were scared when they saw you coming—afraid they'd get yelled at!"
"I didn't really have to yell. I just told them what to do and they did it."
The soft-spoken colonel's matter-of-fact reply reminded me of the New Testament story of the Roman centurion who came to request Jesus' intervention on behalf of his paralyzed servant (see Matthew 8:5–13).  When the Lord offered to go to the centurion's home to heal the servant, the centurion replied, "'Lord, I am not worthy for You to come under my roof, but just say the word, and my servant will be healed. For I also am a man under authority, with soldiers under me; and I say to this one, 'Go!' and he goes, and to another, 'Come!' and he comes, and to my slave, 'Do this!' and he does it'" (Matthew 8:8-9, NASB).
What happened next is astonishing.
Matthew tells us that when Jesus heard the centurion's statement of faith, "He marveled, and said to those who were following, 'Truly I say to you, I have not found such great faith with anyone in Israel. I say to you that many will come from east and west, and recline at the table with Abraham, Isaac and Jacob in the kingdom of heaven; but the sons of the kingdom will be cast out into the outer darkness; in that place there will be weeping and gnashing of teeth.' And Jesus said to the centurion, 'Go; it shall be done for you as you have believed.' And the servant was healed that very moment" (Matthew 8:10-13, NASB).
With mass shootings, hurricanes, fires, earthquakes, cultural and political turmoil, and a volatile world stage, the past month has left many reeling, with some wondering "Who's in charge here?"  In a chaotic world that sometimes seems to be spinning out of control, the faith-filled centurion can teach us some valuable lessons about prayer.
As a commander of 100 soldiers in the Roman army, this man held a position of importance, yet he recognized that his authority only went so far. He had heard enough about Jesus to understand that He possessed not only authority but power. While the Scribes and Pharisees—the religious leaders of the Jews—remained spiritually blind, this Gentile military officer's eyes were opened to see and understand Christ's divine power to heal.
Do we remember who's in charge when we pray? Our faith will be strengthened when we remind ourselves that we are communicating with the all-powerful, omnipotent God, coming to Him in the name of His Son Jesus, who said, "All authority has been given to me in heaven and on earth" (Matthew 28:18, NASB).
Be it Harvey, Irma, Maria or some yet-to-be-named storm, a hurricane does not have authority over us. Fires, earthquakes or other natural disasters cannot touch us without His permission. While the Bible teaches us to be subject to rulers and those who are in authority (see Titus 3:1), political leaders do not have ultimate power over us—God does. Cancer is not in charge—Christ is. Even death has no dominion over us if we know the one who defeated the grave through His death and resurrection (see John 11:25).
Who's in charge here? God is. While we can come boldly to Him with our requests, as children approach a loving father (see Hebrews 4:16 and Galatians 4:6), we need not instruct God on how to act or advise Him on the best strategy to employ. Like the Centurion, we can simply recognize His power, state our need and trust Him to work.
"Now may the God of hope fill you with all joy and peace in believing, that you may abound in hope by the power of the Holy Spirit" (Romans 15:13, NKJV).
—Donna Riesen
---
We appreciate you joining us in prayer for the following events taking place on The Cove property during the month of October.
Oh come, let us worship and bow down; Let us kneel before the Lord our Maker.   (Psalm 95:6, NKJV)
OCTOBER CALL TO PRAYER
Jim Henry – October 9-11
Pastor Renewal Retreat — Trophies That Won't Fade
Allistair Begg with World Medical Mission— October 13-15
Prescription for Renewal and Missionary Medicine Seminar (October 12-13)
Kay Arthur and David Arthur — October 25-27
The Freedom and Power of Keeping in Step With the Spirit