We hope you will enjoy our "Prayer Note"—an internal communication here at The Cove, created each month to remind and encourage our staff to pray. We share these with you at the beginning of each month in hopes that you, too, will be encouraged.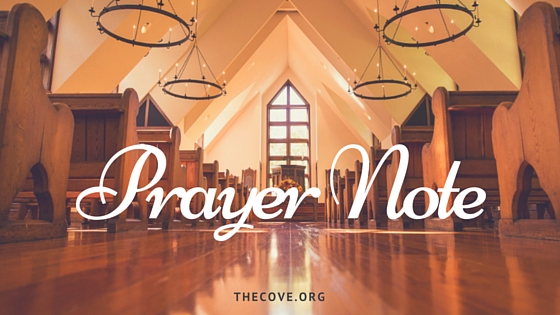 GRATEFUL FOR MOTHS?
"Blessed be the God and Father of our Lord Jesus Christ, who has blessed us in Christ with every spiritual blessing in the heavenly places" (Ephesians 1:3, ESV).
We're entering the Thanksgiving season…an occasion for gathering with family and friends…a time of gratitude and reflection—also known as the Prelude to Black Friday.
Each year the buying frenzy seems to come a little earlier, as another store announces plans to open early on the afternoon or evening of Thanksgiving.  Crowds gather in mall parking lots, awaiting the bargain fest that is to come. It's the same every year. Harried moms come armed with coupons and lists, strategizing the quickest route to the toy aisle. They leave laden with bags and boxes, excited about the great deals they scored. And the cycle continues… Black Friday sales lead to Christmas sales which lead to after-Christmas sales which lead to January white sales which lead to "Just 310 shopping days till Christmas!" Parenting isn't for sissies—especially when it comes to Christmas shopping. Yet, loving parents will go to great lengths to give their children presents they know will bring squeals of delight.
Jesus Himself described God as a gracious and generous Father who loves to give good gifts to His children (Matthew 7:9-11); and when we stop and look around, we must admit He has given us many good gifts in the form of material blessings. "Every good and perfect gift is from above." (James 1:17, NKJV)  When we recognize that truth and acknowledge that everything we have comes from God, it should prompt a response of heartfelt praise. It is good and proper to praise God for material blessings. Yet there's so much more for which we should praise Him! God wants us to recognize our life, our health, and our earthly possessions as gifts from God; yet He also wants us to remember that each of these gifts is temporary.
Jesus said,  "Do not lay up for yourselves treasures on earth, where moth and rust destroy and where thieves break in and steal, but lay up for yourselves treasures in heaven, where neither moth nor rust destroys and where thieves do not break in and steal" (Matthew 6:10-20, ESV).
Things don't last. Moths may flit through your home, feasting on curtains and coats and eating away at earthly possessions.  Rust will eventually eat its way into high-end appliances, expensive tools, and high-performance cars. Thieves may stroll right up to your front porch and steal a package—or worse yet—break into your house and take what isn't theirs. Yet Jesus tells us to not be troubled or afraid.
It's when we take our eyes off Christ and become engrossed in our material possessions and everyday problems that the moth of anxiety flits in and begins to eat away at our rest. What if the roof leaks…the car breaks down…the job doesn't last? It's then that the bandit of fear creeps in through the back door of our consciousness and tries to steal our peace. Though we may be wealthy by earthly standards, without peace we are spiritually bankrupt.
We can't conjure it up, yet we know God's peace when we experience it. We hear our Father's words of comfort, as He invites us to receive His gift of peace—to climb up into His lap and rest our mind, quiet our heart. He is our peace.
It's when we experience "the peace that passes understanding" (Philippians 4:7), that we're reminded of the greatest gifts God gives to us. Times like that can bring us back to the place of true gratitude for "spiritual blessings in the heavenly places."
Ephesians 1 describes just a few of those spiritual blessings—lasting gifts from our good Father: We are chosen, made holy, predestined, adopted, accepted, redeemed, forgiven. We are His purchased possession! When we consider these priceless gifts, the value of our own earthly possessions fades in comparison.
Do you think maybe God created moths and rust for that special purpose—just to remind us of the gifts that really last? Praise God for moths!
Let's gather together this Thanksgiving with grateful hearts, praising God for the material and spiritual blessings He's rained down on us. But before sitting down to dinner, carefully inspect the tablecloth—there may be moth holes!
—Donna Riesen
"Be anxious for nothing, but in everything by prayer and supplication, with thanksgiving, let your requests be made known to God; and the peace of God, which surpasses all understanding, will guard your hearts and minds through Christ Jesus" (Philippians 4:6-7, NKJV).
---
We appreciate you joining us in prayer for the following events taking place on The Cove property during the month of November.
Oh come, let us worship and bow down; Let us kneel before the Lord our Maker.   (Psalm 95:6, NKJV)
NOVEMBER CALL TO PRAYER
Guided Personal Spiritual Retreat — November 3-5
Facilitated by John Parrish and Trish Lancaster
Anne Graham Lotz — November 10-12
In This Final Hour
 An Evening at The Cove with Fernando Ortega — November 12
Stuart and Jill Briscoe — November 13-15
Looking Back to the Future
Lon Allison — November 15-17
Pastor Renewal Retreat — (im)POSSIBLE: Discovering the Joy of a Prayer, Care, and Share Life
Joe Stowell — November 17-19
This Little Light of Mine
Christmas at The Cove with Point of Grace— November 30, December 1, December 2