We hope you will enjoy our "Prayer Note" — an internal communication here at The Cove, created each month to remind and encourage our staff to pray. We share these with you at the beginning of each month in hopes that you, too, will be encouraged.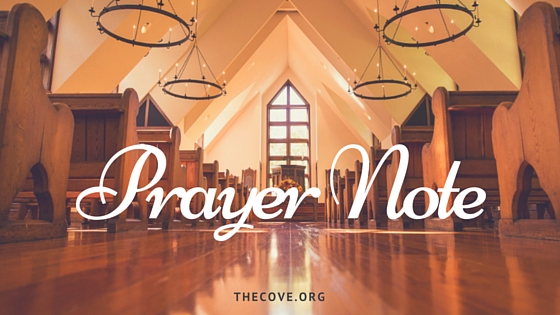 By Donna Riesen
The gold pocket-watch glistened bright against the dark blue velvet of the case. We had been busy helping my father pack up for a move when he called me and my sisters together to show us this treasure—an heirloom from our maternal grandfather that will one day be passed down to my brother, and then some day to his son and grandson. Dad removed the watch from the case and opened it to show us the face.
I thought about the figurative "passing of time" from the hands of my grandfather who died when I was a small child to the time-worn hands of my father to the hands of my brother who would one day receive this gift. When my grandfather prayed for my brother, did he pray for the spouse he would one day meet and marry, and for the children and grandchildren who would follow?
Billy Graham once wrote, "Long after you and I are gone, God will still be at work—and many of the things we prayed for will finally come to pass."
Oh that we could literally pass the gift of time like the passing down of a pocket-watch! One person who has "time to spare" might share with another who is "running short on time."  The reality is, we are all given 24 hours each day. And we are each given one lifetime.
We are time-bound people, yet we are given the privilege of prayer. "The act of prayer brings together Creator and creature, eternity and time, in all the fathomless mystery implied by that convergence I can view prayer as a way of asking a timeless God to intervene more directly in our time-bound life on earth…In a process I am only learning, I can also view prayer from the other side, as a way of entering into the rhythms of eternity and aligning myself with God's 'view from above,' a way to harmonize my own desires with God's and then to help effect, while on earth, what God has willed for all eternity." (Philip Yancey, Prayer.)
As we look ahead to a new seminar year for The Cove, we know we will be guided by schedules, clocks and deadlines. As you plan, prepare and pray, be encouraged in knowing that we serve a God who is always at work and is not bound by time. As you pray for the needs of The Cove, take joy in remembering the words of the Lord from the prophet Isaiah, "And it shall come to pass that before they call I will answer; and while they are still speaking, I will hear." (Isaiah 65:24, NKJV)
The eternal God is not bound by time.  When we pray, we can trust that He knows our need before we declare it, and we can trust that He will answer in His time and in the way that is best.
Thank you for taking time to pray!
---
Oh come, let us worship and bow down;
Let us kneel before the Lord our Maker.   (Psalm 95:6, NKJV)
March 2017 events to pray for:
An Evening at The Cove with Jason Crabb — March 12
(Emcee: Michelle Bachelor)
Pastor Renewal Retreat—Answering the Call
Ray Bentley — March 20-22
(Emcee: Ron Whittemore; Worship Leader: Marty Goetz; Pastor-in-Residence: John Parrish)
NOTE: We still have space and this event is free to pastors and their spouses.  Please help us spread the word!
Guided Personal Spiritual Retreat — March 24-26
(Facilitators: John Parrish and Trish Lancaster)