We hope you will enjoy our "Prayer Note" — an internal communication here at The Cove, created each month to remind and encourage our staff to pray. We share these with you at the beginning of each month in hopes that you, too, will be encouraged.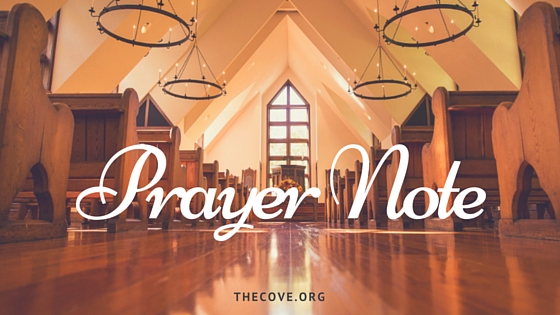 By Donna Riesen
GOD IS WORKING!
Nothing encourages us to remain faithful in prayer like a good long look at an Ebenezer—a visible memorial to the Lord's faithfulness. Whether it's a page from an old prayer journal, a note we've written in the margin of a Bible, or a blog post from a fellow believer, we're encouraged as we remind ourselves of God's goodness in our own lives, and our faith is strengthened as we hear the testimonies of how He has worked in the lives of others.
We're nearly halfway through the year 2017, and, depending upon your role as Cove staff, you've made beds, changed lightbulbs, prepared meals, answered phones, mown grass, typed schedules, copied handouts, etc. Looking back, we know we've provided clean and comfortable rooms, delicious meals and a quiet, peaceful atmosphere conducive to the study of God's Word. We've distributed notebooks and we've welcomed godly speakers who are widely known for their love of God and for their knowledge of the Scriptures. We've shown hospitality in the name of Christ. Yet the greatest thing that has happened at The Cove in 2017 is that each time His Word has been proclaimed, God has shown up.
1 Samuel 6-7 records Israel's defeat in battle and the subsequent capture of the Ark of the Covenant by the Philistines. Later, after the Philistines returned the Ark, the prophet Samuel urged the people toward repentance and renewal of the covenant. When the people heeded his words and assembled to worship, the Philistines heard of the gathering and began to worry that the Israelites might be planning a revolt.
"So the children of Israel said to Samuel, 'Do not cease to cry out to the Lord our God for us, that He may save us from the hand of the Philistines.' And Samuel took a suckling lamb and offered it as a whole burnt offering to the Lord. Then Samuel cried out to the Lord for Israel, and the Lord answered him. Now as Samuel was offering up the burnt offering, the Philistines drew near to battle against Israel. But the Lord thundered with a loud thunder upon the Philistines that day, and so confused them that they were overcome before Israel. And the men of Israel went out of Mizpah and pursued the Philistines, and drove them back as far as below Beth Car. Then Samuel took a stone and set it up between Mizpah and Shen, and called its name Ebenezer, saying, 'Thus far the Lord has helped us.'" (1 Samuel 7:8-12, NKJV)
THUS FAR THE LORD HAS HELPED US
At the conclusion of each Cove seminar, evaluation forms are collected and records are kept and tallied. As we review comments from recent evaluations, we see an archive of God's faithfulness. Each bundle of evaluations contains helpful information about how we can improve our programs, yet it represents much more than statistical data—each bundle contains a record of changed lives, healed hearts and answered prayers. "Thus far the Lord has helped us." While some of the questions on these forms may seem routine (such as inquiries about our guests' satisfaction with the level of service and the comfort of the rooms), there are also questions about the spiritual impact of the visit. Here are a few comments by our guests about significant spiritual decisions they've made while here at The Cove…
WOMEN'S BIBLE STUDY —                                                                                           "I was not only reassured of my faith, but [also] encouraged to live under His wings!"
"This study has given me hope and courage in my walk with Jesus. It comes at the perfect time as I have some important life decisions to make. So, so grateful!"
"I've committed to spiritual growth and to be brave and trusting of God's will like Esther. I'm moving forward in God's healing for me so that in due time I can serve Him better and lead others to Christ."
DON WILTON PASTORS' INSTITUTE —
"I'm recommitted to the task/ministry that the Lord has called me to do."
"I've made a greater commitment to work on my marriage relationship. I needed this time so much!"
"I've resigned myself to rest in God's sovereignty in my life/ministry. Trusting God for all His provisions in my life."
"I'm rededicated to my calling as pastor."
JOHN COOK MILITARY MARRIAGE RETREAT —
"My husband and I clarified our calling and were able to pray about God's will for our future. It was a sweet, peaceful time with God."
"We brought God into our marriage."
"This retreat strengthened our choice to fully reconcile and take divorce off the table."
"We've realized that no matter how big our problem, no matter the hurt, He is our healer and what He has joined let no man or Satan tear apart."
RAY BENTLEY PASTOR RENEWAL RETREAT—
"I found hope where I had none."
"I had lost focus of my work as a pastor. I am once again focused on God and have a cleared mind and soul, seeing once again God's call on my life."
RON HUTCHCRAFT SEMINAR —
"It renewed my faith in God doing the impossible regarding our unsaved loved ones."
"My mom is dying and is not saved. I have been encouraged in this dark time of my life to look through despair to see His glory."
PETE BRISCOE SENIOR CELEBRATION —
"I've resolved to speak truth and love into the lives of my children and grandchildren."
RACHAEL CRABB SEMINAR —
"Initially I thought the reason I came to this conference was for my spiritual growth. However, God dealt with me with forgiving my siblings."
"I felt the Lord gave me a whole new beginning with Him. I feel cleansed, forgiven, loved and accepted."
HENRY, RICHARD AND MIKE BLACKABY SEMINAR —
"I have been praying for a deeper prayer life and to know what to do with my life. I received wisdom about both."
"I realized that God knows where I am and that hardship doesn't mean God is finished with me."
Thank you for your faithfulness in praying for The Cove. Praise God, He hears and answers!
"Thus far the Lord has helped us."
1 Samuel 7:12, NKJV
---
We appreciate you joining us in prayer for the following events taking place on The Cove property during the month of June.
JUNE CALL TO PRAYER
Jerry Vines — June 2-4
Left or Taken? Believers, Unbelievers, and the Return of Christ
Jim Cymbala — June 5-6
Pastors' Institute— Storm: Hearing Jesus for the Times We Live In
An Evening at The Cove with Mark Lowry and Stan Whitmire —   June 18
Mark Yarbrough — June 19-23                                                                                    Intensive Bible Training— Reveling in Grace: The Gospel of Freedom
Walter C. Kaiser, Jr. — June 26-30
Intensive Bible Training— God's Grand Plan for the Nations
Ken Ham — June 30-July 2
As in the Days of Noah