We hope you will enjoy our "Prayer Note"—an internal communication here at The Cove, created each month to remind and encourage our staff to pray. We share these with you at the beginning of each month in hopes that you, too, will be encouraged.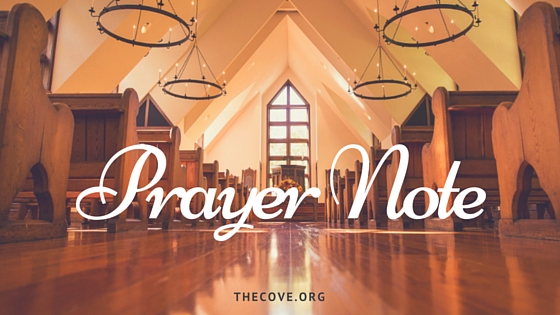 By Donna Riesen
THE BEAUTY OF IMPERFECT PRAYERS
Farmhouse style is one of today's leading decorating trends—yet it's less about trendiness and more about finding beauty in simplicity and uncovering charm in imperfection. Using rustic treasures juxtaposed with classic or updated pieces, farmhouse style combines simple, unpretentious elements (think shiplap, burlap, mason jars, distressed wood) with modern accents to create a charming, graceful and homelike atmosphere. Can a decorating style teach us anything about prayer?
A look around The Cove tells us Ruth Graham would probably have loved this design trend. She embraced the idea of incorporating rustic, imperfect objects with a few scratches and scrapes into her home's décor. As her daughter, Gigi, shares, "She was an original when it came to seeing the beauty or possibility in an old broken chair, a piece of scarred wood, or an old, uneven door that formally hung on a chicken coop. She paid extra to workmen to work on salvaged materials because of the chance of bending or breaking the tools they were using."
I like to think Ruth would be among today's DIYers who collect plain, unpretentious items and recycle or repurpose them in creative ways that combine beauty and practicality.
In her book, Legacy of a Pack Rat, Ruth related the story of visiting an eccentric man who had built a great house completely of salvaged materials. She explained how this collector of scrap metal and antiques would take broken bits of china and glue them together to form charming and creative objects.
"Few ever came out whole. They remained simply the collection of one who cared. When I expressed interest, he gave me a blue and white plate, carefully glued together—pieces missing. 'You remind me of God,' I said. By the look on his face, I knew I had shocked him, and I hurriedly explained. 'God pieces back broken lives lovingly. Sometimes a piece is irretrievably lost. But still He gathers what He can and restores us. Perhaps it gives pleasure to no one else, but to Him.'"
According to Ruth's daughter, Gigi, this little piece of pottery still exists.
"Like the Lord," Gigi says, "Mother looked for the possibilities in all the knots and cracks—not only in objects but in people." Ruth valued people—with all their "knots and cracks," yet she understood the necessity of acknowledging our faults and imperfections and confessing them before God in prayer.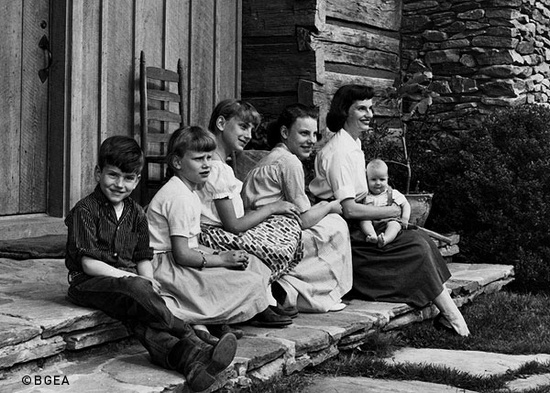 The Scriptures are full of accounts of honest prayers.
THE PSALMIST'S PRAYER
As we move through our days, we all end up with a few scratches and scrapes on our souls. As the psalmist David put it, "My heart within me is distressed" (Psalm 143:4, NKJV). An honest look inside the home of our heart will reveal sin stains, scars and woundedness—imperfections that can't be covered up with shiplap or disguised with a coat of white paint. The Pharisees tried that "fixer-upper" technique, and Jesus exposed them as hypocrites and "whitewashed tombs" (Matthew 23:27).
Jesus knew that all our futile attempts to tackle sin on our own with inner DIY projects would always end in failure. That's why He came—to make the broken whole.
THE PRAYERS OF THE PHARISEE AND THE TAX COLLECTOR:
PIOUS PLATITUDES OR HONEST REPENTANCE?
Jesus taught that the prayers God honors are the simple, real, honest, heartfelt prayers of the broken. To illustrate, He shared the parable of The Pharisee and the Tax Collector, recorded in Luke 18:9-14. After the loud and blustery prayer of the prideful Pharisee, came the humble, repentant petition of the tax collector: "God, be merciful to me a sinner!" (18:13). Recognizing the beauty of this simple confession, Jesus exclaimed, "I tell you, this man went down to his house justified, rather than the other. For everyone who exalts himself will be humbled, but the one who humbles himself will be exalted" (9:14).
THE PRAYER JESUS PRAYED IN OUR PLACE
Perhaps the most honest, raw and gut-wrenching prayer recorded in Scripture is the cry of Jesus from the cross: "My God, My God, why have You forsaken Me?" (Matthew 27:46, NKJV). The horrific physical pain Christ endured was nothing compared to the spiritual torment He experienced. Bearing the weight of the sins of the world and suffering in our place, He felt the full weight of the wrath of God as the Father turned His back on His beloved Son. Because Christ suffered, died, and arose victorious over sin and death, those of us who have accepted His gift of salvation need never ask if God has forsaken us. Although we may experience times of great suffering, darkness or pain, we can know that our debt of sin has been paid by His substitutionary sacrifice on our behalf.
THE SIMPLEST PRAYER
A Cove co-worker who is going through an incredibly difficult trial told me recently of an incident that took place as she was putting her toddler to bed. Her mind heavy with anxiety, she put on a smile and asked quietly, "What song would you like to sing before you go to sleep tonight?" Her sweet little one replied, "Jesus! Jesus!"  Together they sang, "Jesus loves me, this I know, for the Bible tells me so. Little ones to Him belong; they are weak, but He is strong."  Rather than a stirring sermon or a heavy theological treatise, the Lord used this tiny voice and simple lyrics to remind her of His love for her and to encourage her to lean on His strength in the midst of her weakness. Sometimes the name of Jesus is all we can manage to pray.
As we pray for the ministry needs of The Cove and as we pray for each other, let's commit to pray with honesty, humility and an acknowledgement of our brokenness. We are all "fixer-uppers," distressed and imperfect, yet we're serving the One who makes the broken beautiful. There are unspoken needs carried deep in the heart of each staff member and each Cove guest; and as we pray, we can trust the Holy Spirit to intercede on their behalf. The One who makes beauty from ashes is at work transforming lives at The Cove—this month, watch for signs of His creative touch!
---
We appreciate you joining us in prayer for the following events taking place on The Cove property during the month of July.
Oh come, let us worship and bow down; Let us kneel before the Lord our Maker.   (Psalm 95:6, NKJV)
JULY CALL TO PRAYER
SeniorSalt Impact Hymn Sing — July 6
Darren Thomas — July 7-9
Jesus, Don't You Care?
Woodrow Kroll — July 10-14
Intensive Bible Training— The Most Unique Person Who Ever Lived
Tim Lundy — July 14-16
Pray Like Jesus
An Evening at The Cove with Michael Card — July 16
Michael Card — July 17-21
Intensive Bible Training — Luke: The Gospel of Amazement
Lisa Harper — July 21-23
Women's Seminar — The Sacrament of Happy
 Guided Personal Spiritual Retreat — July 24-27
Alex McFarland — July 28-30
Apologetics and the Gospel Message: A Study of Colossians
                                               Follow us on social media.