We hope you will enjoy our "Prayer Note" — an internal communication here at The Cove, created each month to remind and encourage our staff to pray. We share these with you at the beginning of each month in hopes that you, too, will be encouraged.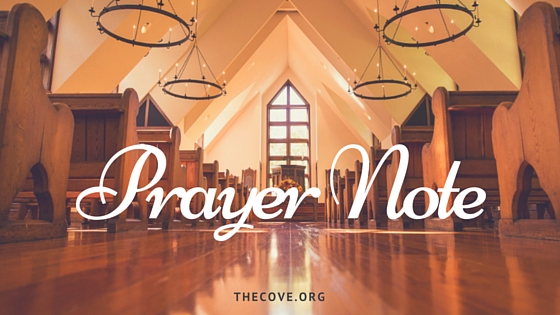 Happy New Year!  We look forward to what God has in store for His children this new year.  We hope this prayer, and the Scripture to follow, will give you words to meditate upon as you walk with Him into 2017.
The Spirit to Know You
A prayer by St. Benedict of Nursia
O gracious and holy Father,
give us wisdom to perceive Thee,
intelligence to understand Thee,
diligence to seek Thee,
patience to wait for Thee,
eyes to behold Thee,
a heart to meditate upon Thee,
and a life to proclaim Thee;
through the power of the Spirit
of Jesus Christ our Lord.
---
And our prayer for you from 2 Thessalonians 1:11-12
"Therefore we also pray always for you that our God would count you worthy of this calling, and fulfill all the good pleasure of His goodness and the work of faith with power, that the name of our Lord Jesus Christ may be glorified in you, and you in Him, according to the grace of our God and the Lord Jesus Christ" 2 Thessalonians 1:11-12.
---
Join us in praying for the following events in January:
Women's Morning Bible Study with Jane Derrick — January 10 – February 28
Women's Evening Bible Study with Kendra Graham — January 10 – February 21
We also have many Guest Groups on property during the month of January, taking time to focus on God and His leading during their conferences, retreats, and ministry events.
Thank you for praying!