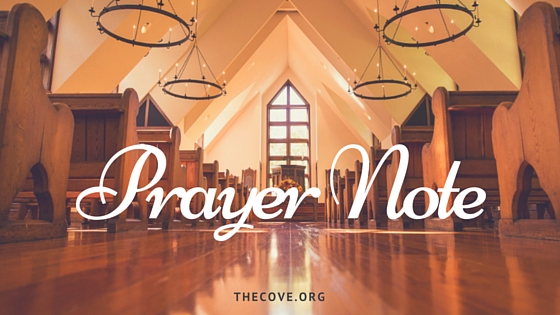 We hope you will enjoy our "Prayer Note"—an internal communication here at The Cove, created each month to remind and encourage our staff to pray. We share these with you at the beginning of each month in hopes that you, too, will be encouraged.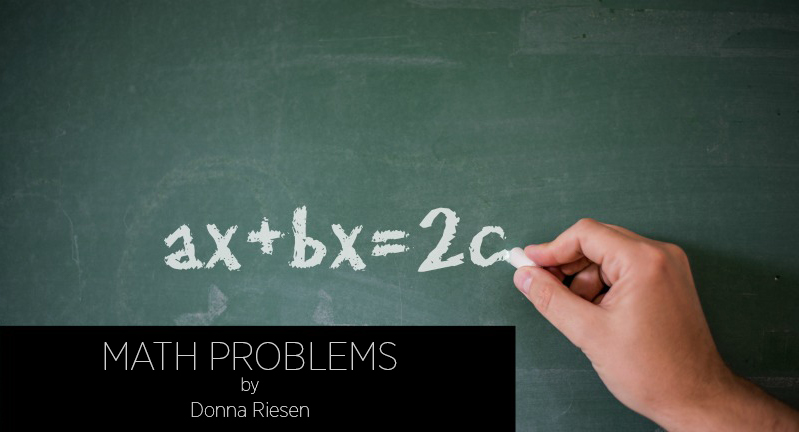 As someone who struggled with math through all my years of schooling, my philosophy on the subject is simple: "There are three kinds of people: those who can count, and those who can't."  Math was my nemesis. Numbers swam in my head, formulas made me dizzy, and I couldn't tell a factor from a variable. The one phrase I identified with was "math problem" (problem being the operative word).  In particular, word problems gave me fits. Being called on to solve the one about the train entering the tunnel at 30 mph always gave me a sinking feeling of standing in the middle of the tracks waiting to be mowed down. The only light at the end of that tunnel came when I heard the bell ring to signal the end of class.
Those of us who are mathematically challenged may have a greater appreciation for some of the biblical accounts that turn the conventional laws of arithmetic upside down. When the numbers don't add up, God has His own way of solving the equation. A crowd of 5,000 hungry people? 5 loaves + 2 fishes + Jesus = No problem!
GIDEON'S LESSON IN SUBTRACTION
I love the way God does the math in the Old Testament account of Gideon.
The introductory verses of Judges 6 portray a sad scenario. The Israelites had again strayed from God and as a result had seen their land invaded. For seven long years the ruthless and cruel Midianites had ravaged the land, ruined crops and destroyed Israel's livestock. Our first glimpse of Gideon comes in verse 11 as we see him at the bottom of a winepress, a deep pit where he has gone to thresh wheat in secret to escape the harassment and oppression of the Midianites. Yet here in this literal "pit of despair," Gideon is called a "mighty man of valor" by the angel of the Lord and is ordered to "go in this might of yours and save Israel from the hand of Midian." (See Judges 6:11-14.) Fearful, timid, and feeling woefully inadequate, Gideon responded, "Please, Lord, how can I save Israel? Behold, my clan is the weakest in Manasseh, and I am the least in my father's house" (6:15). The Lord's answer to Gideon solves any potential mathematical, military or logistical problem: "I will be with you" (6:16).
After requesting a sign from the Lord, Gideon did obey, demolishing the altar of Baal and cutting down the Asherah pole that had been erected as an altar for the worship of false gods. (See Judges 6:25-27.) The remainder of this Old Testament account sets up a math problem that ends with a hands-on lesson in what has been referred to as God's arithmetic.
Judges 6:33 tells us that "All the Midianites and the Amalekites and the people of the East came together and they crossed the Jordan and encamped in the Valley of Jezreel." This amounted to a huge army amassed against God's people. (We're told later in Judges 7:12 that they were "like locusts in number.") Yet verse 34 sounds a hopeful note. "But the spirit of the Lord clothed Gideon, and he sounded the trumpet, and the Abiezrites were called out to follow him. And he sent messengers throughout all Manasseh, and they too were called out to follow him. And he sent messengers to Asher, Zebulon, and Naphtali, and they went up to meet him" (Judges 6:34, ESV).
After putting out a fleece and receiving another confirmation of God's call on him to save Israel, Gideon had put out the call and begun to assemble the troops, eventually numbering around 33,000. Yet as Gideon would soon learn, God had a math lesson to teach as He began to deconstruct Gideon's "strength in numbers" military strategy.
"The Lord said to Gideon, 'The people with you are too many for me to give the Midianites into their hand, lest Israel boast over me, saying, 'My own hand has saved me.''" (Judges 7:2, ESV)  Verses three through seven provide the account of how God instructed Gideon to reduce the size of his fighting force, setting them up for what appeared to be a disadvantage as a small army of just 300 men—yet setting the stage for an astounding display of God's Glory.
Verses 9-14 tell us of God's patience in reassuring Gideon and giving him courage for the battle ahead. The remaining verses of Judges chapter seven give the astonishing account of how the Lord delivered the massive Midianite army into the hands of Gideon and his small band of 300 valiant soldiers. Using only torches, trumpets and jars, the undersized Israelite army simply obeyed God's instructions and then stood and watched Him work a miracle of victory and deliverance.
What an encouraging picture for those of us who may sometimes feel outnumbered or ill-equipped, and what an inspiring reminder of Who is really fighting our battles as we go about serving the Lord!
TRUST GOD TO DO THE MATH
As you pray for the needs of The Cove throughout the month, begin with praise. We've seen God's hand at work in amazing ways this year. Seminars are well-attended and we've heard many testimonies of lives changed by the power of His Word.
Yet the one part of the equation that we rarely have the privilege of seeing is what Charles Haddon Spurgeon called "God's Multiplication Table." When God speaks to the heart of one individual at The Cove and brings healing, restoration, forgiveness and hope, we have no idea what miracles He may have in store for them as they exit our gates and return home. We do know, however, that God is faithful. We know that the seeds planted as God's Word was sown will produce an eventual harvest in His time. Will a troubled marriage eventually be restored or a family transformed? Will a neighbor hear the gospel or a co-worker be invited to church? How will the seeds of God's Word be sown by that one individual who found renewal and new purpose at The Cove? In what ways will God's love be shown and His kingdom advanced?
As Spurgeon wrote, "Mustard seed is the smallest among seeds, and yet it becomes a tree-like plant with branches which lodge the birds of heaven. We may begin with one, and that 'a little one,' and yet it will 'become a thousand.' The Lord is great at the multiplication table."
Praise God for what He is doing at The Cove, and thank Him in advance for how He will continue the work He has begun in the life of each individual who meets Him here. Remain faithful in prayer, knowing that He has called you here to The Cove to play a small part in His multiplication table.
"Continue earnestly in prayer, being vigilant in it with thanksgiving."  Colossians 4:2, NKJV
"And I am sure of this, that he who began a good work in you
will bring it to completion at the day of Jesus Christ." Philippians 1:6, ESV
---
We appreciate you joining us in prayer for the following events taking place on The Cove property during the month of August.
Oh come, let us worship and bow down; Let us kneel before the Lord our Maker.   (Psalm 95:6, NKJV)
AUGUST CALL TO PRAYER
An Evening at The Cove with The Collingsworth Family — August 10
Will Graham — August 11-13
God's Will is No Secret
SeniorCelebration: Jim Henry with Dueling Pianos — August 14-16
Rabbits Worth Chasing 
Steve Brown — August 25-27
When God is Silent
R. T. Kendall — August 28-September 1
–Intensive Bible Training- 
Experiencing the Presence of God
                                               Follow us on social media.