We are blessed to have over 100 volunteers at The Cove.  From helping you find a seat in the auditorium, to guiding you on a tour in our Chapel and Visitor's Center, to praying over our guest's and visitor's prayer requests, these faithful servants play a vital role in our ministry. 
Pam is a volunteer at The Cove who helps out in administration and is on the Intercessory Prayer Team.  Read on as she gives you a BEHIND THE SCENES look at her role here.       
                                              ——————————–
As a volunteer at the Cove one of the things I am involved in is the Intercessory Prayer team.  I feel it truly is a privilege and honor to be trusted and asked to pray for the concerns others have on their hearts.

As a team we are praying for an average of 900 different prayer cards that are turned in at The Cove each month.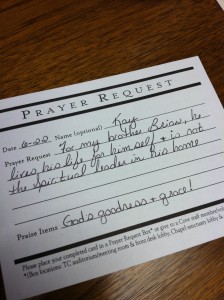 These cards are available on site in various locations for the guests and visitors on property.  So, how does it work?  When guests are here for a seminar or other event, they can fill out a prayer card(s) with requests and concerns that God lays on their hearts.  They drop the card(s) in the one of the prayer boxes that are located throughout the property. These cards are collected and given to members of our prayer team who immediately begin praying for them. Each of the cards is prayed over at least 4 times, and then destroyed.

There are 20 members on the Prayer Team who sign up for different time slots to be on Cove property praying.  My female prayer partner and I come together once per week to meet and pray for the prayer requests.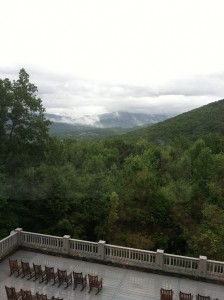 My favorite location to pray is up in our prayer room on the 3rd floor of The Training Center.  I have such a fabulous view of the mountains of the Cove, the changing sky above, the great birds that are soaring, and also a view out of the Cove to the world beyond with its buildings, mountains, valleys, and horizon. Every time I am there the scenery is different, varying with the seasons and weather patterns.

What kinds of requests do we get?  Here's a sample: broken marriages, prodigal children, concerns for grandchildren, loss due to death or suicide, salvation for souls, future spouses for Christian children in this world, friends and family who are sick, those close who are dying, struggles in the local churches, court cases and battles, guidance for  life, the need of a job, a house that needs to sell, career changes, false accusations, mission outreach projects, fractured relationships between parents & children, pain in ministry, physical pain and suffering, medical tests and treatments, guidance with finances, help with addictions to food, drugs, alcohol, pornography, etc.

There is also a place to share praises on the cards. So, even though we see the burdens that are on people's hearts, we also often get a glimpse of the blessings God is pouring out. What a thrill to praise the Lord for His goodness, grace, love, compassion, sustaining power, faithfulness, protection, provision, guidance, comfort, and peace.   We even get some cards that are sharing answers to prayer, and we rejoice in those as well.  What a gift to see the hand of God working in the lives of those who come and share with us, as we partner with them in approaching our Father God with the desires of our hearts.
Interested in volunteering at The Cove?  Click here to download an application.