At The Cove, we are blessed with amazingly gifted chefs with a heart to serve God. 
A recipe that has been requested many times over the years has now been released from the "vault"!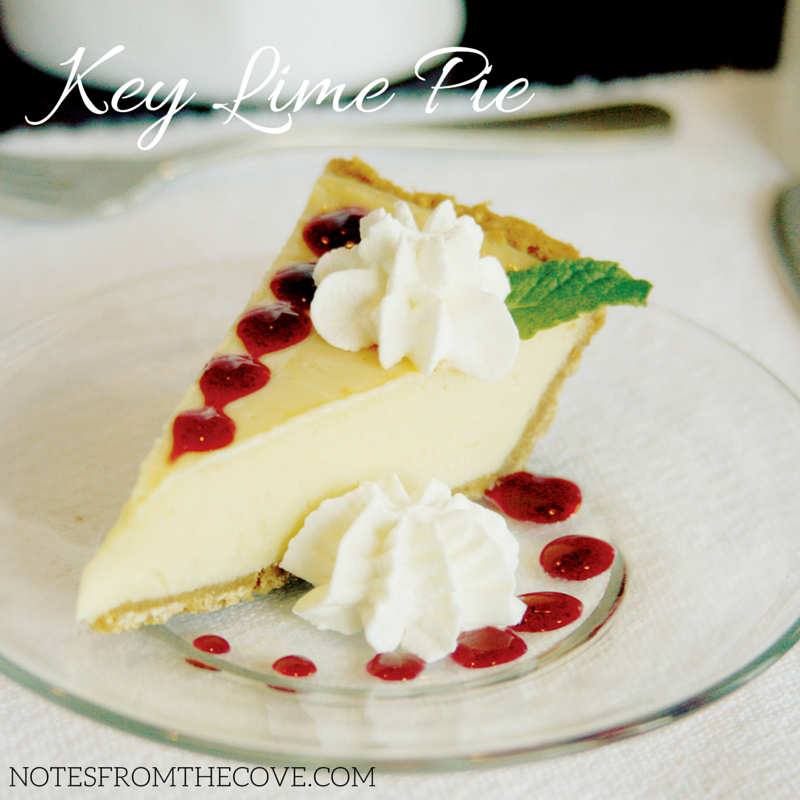 The late French-born chef, Jean-Claude Mille, was celebrated for his exquisite cuisine and cooking expertise. Jean-Claude once shared the famous key lime pie recipe he served while at The Cove, described by one guest as, "simply the best I've had!" 
Yesterday's Restaurant Famous Key Lime Pie
Served at The Cove
Makes one 9-inch pie, 6-8 servings
Preparation time: 1 hour
Ingredients
Crust
1 cup graham cracker crumbs
1/3 (3 oz) cup sugar
½ stick (2 oz) unsalted butter, melted
¼ cup walnuts, chopped fine and oven toasted
Filling
6 large egg yolks
1 teaspoon vanilla extract (pure only)
4 tablespoons lime zest, grated
2 – 14oz cans of Borden Eagle Brand sweetened condensed milk
1 cup fresh key lime juice or fresh squeezed lime juice
Topping
1 cup heavy cream
1 teaspoon pure vanilla extract
¼ cup toasted walnuts, coarsely chopped
1 tablespoon confectioner's sugar
Preparation
For the Crust:
Preheat oven to 350 degrees
Mix together: graham cracker crumbs, sugar, butter, and toasted walnuts and combine well.  Put mixture in a 9 inch glass oven-proof pan and press evenly in pan.  Bake crust in oven for 15 minutes and let it cool down.
For the Filling:
Preheat the oven to 325 degrees
It's easier to remove the lime zest from whole limes.  Then cut the limes in half and squeeze out the juice and strain to exclude the pits.  Put aside.

1.  Whisk the egg yolks, vanilla extract and lime zest together in a bowl.  This takes about 2 minutes.
2.  Slowly add the condensed milk.  Add the juice and whisk well.
3.  Pour filling into crust and bake for about 15 minutes.
4.  Let the pie cool down and refrigerate for at least 4 hours.
For the Topping:
Pour the heavy cream in to a very clean bowl.  Add the vanilla extract and whisk until firm.
Top the pie with the whipped cream, add walnuts, sprinkle with sugar and serve. 
Enjoy!
Find additional recipes from The Cove kitchen here.
Enjoy delicious recipes like this on your next stay at The Cove.  Click here to see a full list of upcoming events at The Cove or contact our Guest Group department to book a group retreat.