By Trevor Freeze
Anticipation.
Possibly the best part to any weekend get-away, the wondering of what is in store is almost as beneficial as the actual vacation itself.
Almost.
Well-known pastor and author Chip Ingram spent parts of three days in the mountain tops outside of Asheville, bestowing wisdom to eager parents about, you guessed it, parenting.
And as my wife and I slipped into the dining room and our eyes locked in on the only two remaining seats, that feeling of anticipation quickly slipped into reality, with Gigi Graham welcoming us even before we placed the crisply-designed napkin into our laps.
Introduction time.
You know the drill. Where you from? How many kids? What do you do? Pick your three or four of the least-threatening pleasantries and your shallow table conversation can commence.
But not this table. Not this weekend.
The three other couples — from Ohio, Tennessee and South Carolina — didn't come to play Sunday School. This much was clear.
The conversations were real from the first hellos.
"We're celebrating our 10th anniversary," said Lorien Boyer, a graphic designer from Westerville, Ohio. "And I wanted to go on a cruise."
The glance to her husband was priceless. Except maybe to the husband.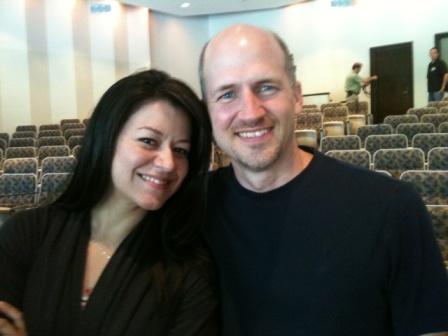 Mark Boyer, manager for an upstart Christian Radio Station Shine (88.9), explains their story slightly different. You see, the Boyers had good friends just outside Columbus, Ohio, also celebrating 10 years of marriage and they had planned taking a cruise together. Until the friends, ever so inconveniently, got pregnant.
That's when Mark went to the well and scrambled for a suitable Plan B. Honey, how about the Cove? And Chip Ingram?
And hey, it's on parenting. Memorial Day Weekend. Perfect.
"The first time I threw it out there she was like 'No, I don't want to go to a seminar," said Mark, father to Casey, 2 1/2, and Drew, 14 months. "But when you go to something like this, you know God is going to do something, you just don't know what."
Lorien didn't care for the pep talk. Where's the Lido Deck? The 30 SPF? The Midnight Buffet?
"I was very disappointed," Lorien said. "I had never been on a cruise. The Caribbean. Warm Weather. Laying on the beach…
Spoiler alert: Mark talked Lorien into scrapping the cruise idea and the couple made the 8-hour drive to the Billy Graham Training Center this past weekend.
And as much as Lorien doubted Mark, she couldn't help but stop herself in mid-sentence as the conference was wrapping up and she was saying her goodbyes, exchanging e-mails.
"But this…," she said, pausing to flash her husband a smile, as they talked about a return trip. "I'm definitely glad we came. It was such a great weekend!"
Trevor Freeze, a writer for billygraham.org, survived the Chip Ingram parenting conference at The Cove. And highly recommends it.