By Amanda Parrish
Walnut Crusted Pork Tenderloin with Peach Sauce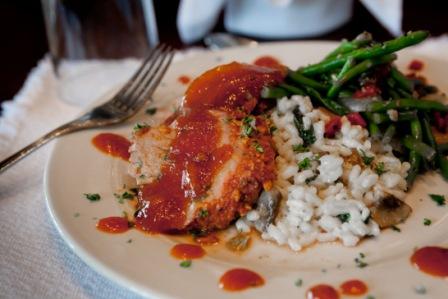 Smooth sweetness with a pop of light, flavorful tang, the Walnut Crusted Pork Tenderloin with Peach Sauce is a perfect closing to summer vacations and opening for the first hint of the fall season. From The Cove dining room to your own home table, this rolled in chopped walnuts and doused in sweet peach sauce recipe is bound to be a hit.
During his interview for the Executive Sous Chef position at The Cove, Doug Walls chose to make this recipe. It is now also a main meat on one of the dining room's evening menus. Walls created the dish some time ago while experimenting with pork and different flavors.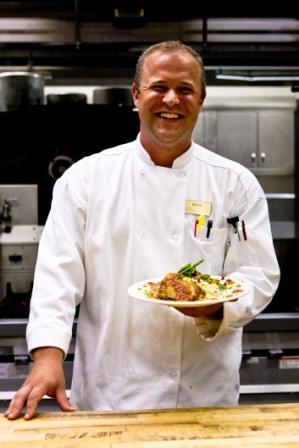 "The sweet and spice flavors go well together," Walls said. The walnuts also add a fresh and pleasant twist.
Walls said "tweaking" the sauce is a good option to personalize the recipe. Choosing a different fruit, such as blueberries, or adding herbs is an excellent way to customize for personal preference. Various nuts, such as pecans, can also be a substitute for the walnuts.
Walls suggested this dish for Christmas parties and other get-togethers. This recipe served with spinach and mushroom risotto and roasted asparagus as sides makes for an excellent meal.
As a final word of advice, Walls warns against over cooking the pork and emphasizes cutting the meat at a bias (a 45 degree angle as shown below).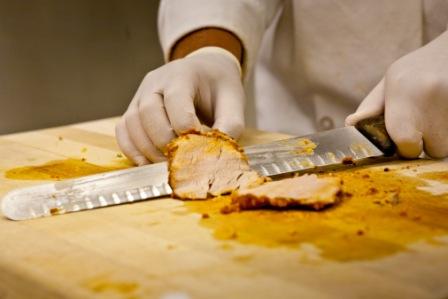 Recipe: (Preps for 6)
2.5 lb. pork tenderloins
Walnut Mix:
1   Cup Chopped Walnuts
¼  Cup Paprika
1   Tablespoon Ground Mustard
1   teaspoon Garlic Powder
1   Tablespoon Salt and Pepper
½  Cup Brown Sugar
Handful Parsley
Combine all ingredients in a bowl.
Peach Sauce:
1  Cup Ketchup
1  Cup Mustard
¼ Cup Apple Cider Vinegar
1  Cup Honey
1   Cup Brown Sugar
2   Cups Frozen Peaches
Add all ingredients and reduce down.
Place sauce in food processor and puree down.
Directions:
1.     Preheat oven to 350 degrees.
2.    Trim the silver skin from the tenderloin.
3.    Brush Dijon Mustard around loin.
4.    Roll tenderloin in walnut mix.
5.    Place on sheet pan and bake at 350 degrees for 20 minutes.
6.    Let rest for 10 minutes then slice at a bias.