Tonight at 7:15 p.m. ET, we are pleased to present a free webcast session of Michael Card's seminar, The Gospel of Passion. Make plans to join us to learn a side of Jesus we don't know as well—His emotional side.
The focus of the seminar will be the book of Mark. "Once you accept that Mark is writing Peter's memoir, then you can read this gospel with Peter's influence and point of view in mind," Card explains. "The Book of Mark is a portrayal more so than any other gospel of the emotional life of Jesus. Peter is clearly the person Jesus is closest to."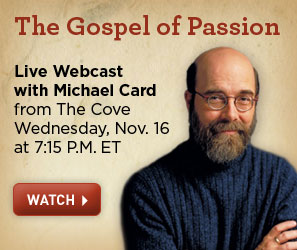 While Michael Card is widely known for his musical accomplishments, he received a calling at the age of 14 to teach. The musical career was not his idea. As he was getting his education to become a Bible teacher, one of his professors asked him to start writing music. When he teaches at The Cove this week on the Gospel of Mark, he will be excited to get back to his roots of teaching. Joy Allmond of BillyGraham.org spent some time with Michael to ask him about this.
"In a lot of ways, getting to do this is getting back to my original call: to help people engage with the text, not just hear ideas. I want to encourage people to engage with the Scripture on their own."
To read the entire article, click here.