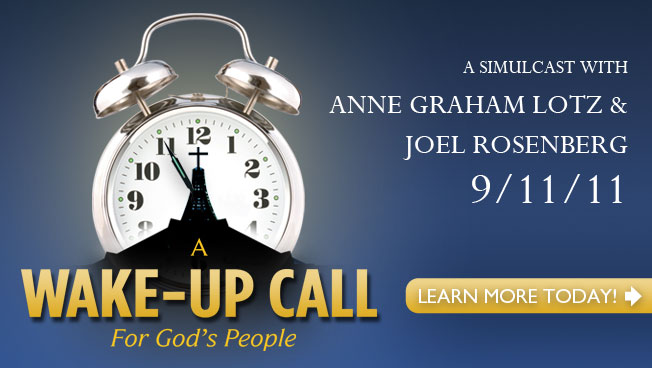 On Sunday, Sept. 11, the Billy Graham Training Center at The Cove will be a host site for a special simulcast event with Anne Graham Lotz and Joel Rosenberg called "A Wake-up Call for God's People."
This free simulcast event will include an evening of teaching messages by Anne Graham Lotz and Joel Rosenberg, with worship music led by award-winning Christian group Selah. This international event will focus on considering the times in which we live and refocusing on Jesus as the hope for the future.
Anne Graham Lotz, founder of AnGeL Ministries, has passionately carried the Word of God to people around the world for more than 30 years. The daughter of Dr. and Mrs. Billy Graham, Anne launched "Just Give Me Jesus" in 2000, a series of life-changing revivals held in arenas throughout the world. Anne is an award-winning and best-selling author.
Joel Rosenberg is the New York Times best-selling author of five novels and two nonfiction books, with some 2 million total copies in print. He is also the founder of The Joshua Fund, a nonprofit educational and charitable organization to mobilize Christians to "bless Israel and her neighbors in the name of Jesus" with food, clothing, medical supplies and other humanitarian relief.
This is a free evening event with a dinner option available for $20. A lodging option is also available for the night of Sept. 11, which includes breakfast the following morning. Pre-registration for this free event is required; call (800) 950-2092 to register!