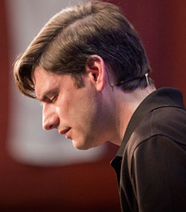 By Will Graham
I believe that most of us who have placed our faith in Jesus would agree that we have found the cure for the heart problem that ails the world. We've experienced the peace that passes all understanding, while every day we watch others sinking in despair with their hearts far from God. Sadly, it's rare when we actually seize the opportunity to toss a rope to the man or woman beside us who is drowning in their hopelessness.
I was recently reminded why it is so important to not miss these chances to reach others when God offers you the opportunity. I was speaking at a weekend Celebration in Terrell, Texas, just east of Dallas. My good friend and ministry partner Todd Pierce, a rodeo cowboy, came down from Idaho to share his testimony from the stage of what Christ has done in his life.
On Saturday, the second of the three days of the event, Todd was preparing to come over to the Performing Arts Center where the Celebration was being held. As he pulled up to a stop light, he saw a man by the side of the road asking for spare change. God moved in Todd's heart, and Todd pulled his car off to the shoulder of the road and waved the man over.
Todd invited him to the Celebration, and – after hearing what the man had to say about "those Christians" – convinced him to come along. The man quickly went off to find his brothers, and the three of them returned and climbed into the back of Todd's car.
I had no idea that any of this was taking place while I was backstage preparing to preach on youth night. That evening, when I offered the invitation for the young people in the crowd to make a commitment to Jesus, I quickly noticed the full head of gray hair making its way down to the front.
One of the three men that Todd had picked up – nicknamed "Freebird" after the Lynyrd Skynyrd song – heard the Gospel and, there in the Terrell ISD Performing Arts Center, prayed to accept Christ as his Lord and Savior.
Afterwards he told Todd, "They call me 'Freebird,' but I've never felt free in my life until tonight." He couldn't believe that people loved him and hugged him even though he was wearing dirty clothes and hadn't showered.
The next morning, as our team met for devotions in the local Holiday Inn, we rejoiced at the work that God had done in Freebird's life. We were grateful that Todd responded when he felt God calling him to pull the car to the side of the road.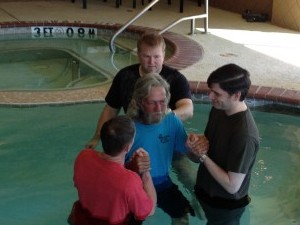 As we closed our time together, we received word that Freebird was on his way to the hotel. He had decided that – having made a commitment to follow Christ – he wanted to be baptized as well! That morning, along with Todd and our emcee Mark Christian, I had the amazing blessing of helping to baptize Freebird in the Holiday Inn swimming pool.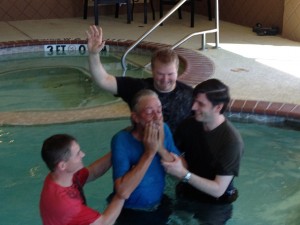 When we asked Freebird – whose real name we learned was Fred – if he was going to come to Sunday afternoon's final Celebration service, he declined. "No, I'm leaving right now to head home to Alabama," he said.  "I called my wife and told her we're kicking this alcohol thing, and we're getting our marriage right."
My friends, people need the Lord! Do you have an urgency in your spirit to share Him with others? Do you want to see people find true freedom in Christ? Do you believe that eternity is at stake?
When the Holy Spirit nudged Todd to stop alongside the road, he could have easily said, "I'm going to share my faith with thousands of people this weekend. I'm doing my part. I don't need to do this too!" And when the man by the side of the road started bad-mouthing Christians, Todd could have driven away. But, of course, he didn't do either of those things. Because of that, Freebird's eternity – as well as his marriage and his life here on earth – has forever changed.
How often do we watch our co-workers, family, friends, and neighbors – even the man asking for extra change on the street corner – struggle through life without sharing with them that they can have true hope for eternity? We're always too busy, or too timid, or – frankly – too jaded to share the love and peace we've found. Don't miss those opportunities!
I pray that I never forget what Freebird taught me, and I pray that you too will be challenged to truly see that people need the Lord.