Welcome to Kendra Graham's Online Bible Study! This is a place where we can come together and share in our journey towards Scriptural truths and spiritual maturity. We pray this will be a safe, respectful, resourceful place to come and discuss God's Word…to discover What it says…What it means…and What it means to you!
Make sure you don't miss a post, just enter your email in the "Subscribe Via Email" box in the upper left hand corner of our blog. It's free and you'll receive these posts straight into your email inbox.
Kendra Graham notes from :  Matthew 26:56
"But all this was done that the Scriptures of the prophets might be fulfilled.  Then all the disciples forsook him and fled."
THE FACTS:  
All this was done so Scripture of prophets be fulfilled. All the disciples forsook Him and fled.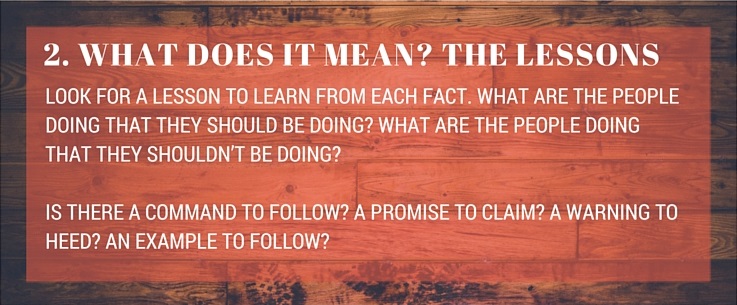 THE LESSONS:   
We were hand made by God to walk with God, know God and need God… but sin separates us from Him… So He came Himself, not trusting us to another, to make things right. Romans 5:17
Jesus was bound in the Garden of Gethsemane and led to the house of Caiaphas, where the scribes were already assembled.  Jesus was led down the mountain, across the Kidron Valley, and up the ancient steps to the house of the High Priest.  Was that night especially dark?  Was the only light on the path, the light from those arresting Jesus?  I wonder if even the insects and the nocturnal animals chose to just stay in that night?
Jesus was arrested in the cover of darkness, where injustice and evil prefer to reside undetected by the light.  Jesus even asks them why they took him in the cloak of night, when daily He taught in the temple, and at any time they could have seized Him in the light of day.  The question went unanswered.
There was a group already assembled at the house of the old High Priest, Caiaphas.  No wake up call in the middle of the night needed, it was as if everyone was on the same group texting thread and court was in session before Jesus arrived, like it was the norm…. away from the cameras and questions that would have been asked during the day.  The first three, of six trials of Jesus would take place in the middle of the night.
Jesus was alone.
The verses, here in Matthew, say that all His disciples fled and forsook Him.  None of them stayed to fight the mob.  None of them stood in great faith.  You see, the closest disciple of Jesus needs Him to die on that cross and rise from the grave just as much as the worst of sinners does.  The Bible says, "we all have sinned" – Romans 3:23.  It's at this point that you see why God had to come personally.  God could not trust this part, His suffering and death to just anyone.  All of us would flee… BUT GOD loves us so much that He came personally, while we were enemies against Him, and died for us — Romans 5:8.  The wages of sin is death — Romans 6:23.  Someone has to pay that wage.   We were not created to pay that debt or bear the wrath of God, so God bore it Himself — alone.
This past May, as I ascended those ancient steps to the house that is historically accepted to be that house of Caiaphas, my soul was stirred as I saw Psalm 88 in a new light.  This house has been excavated in layers which shows that the "house" was much more than just a home:  There is evidence of living quarters, but also, the size and how it is laid out shows that perhaps it was also used much like a governmental building of sort.  It was much too big to just be a home, but what was found below was much more telling.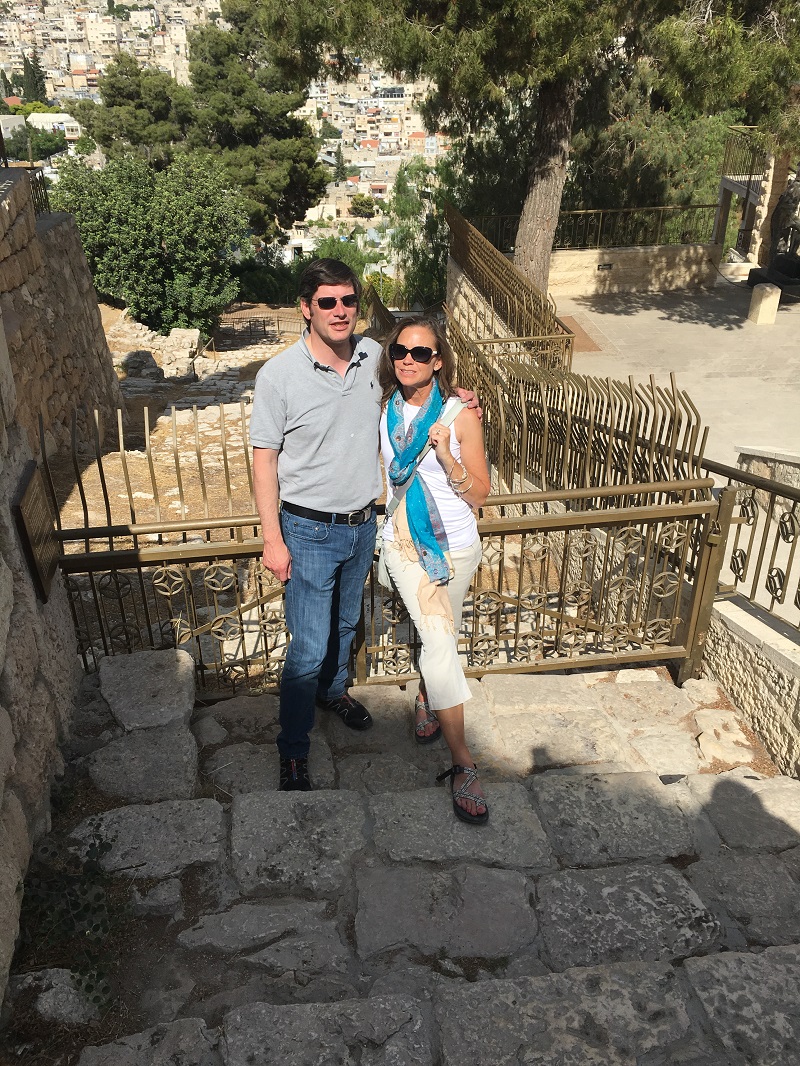 As you arrive, you enter a courtyard.  Today there is a church built on this location.  As you enter the church and begin to descend down, you see evidence of holding cells, or a small prison, which would not be a stretch to imagine that the home of the High Priest would have held religious prisoners.  The Jewish leaders were allowed to hold prisoners, they were just not allowed in Roman control to execute them.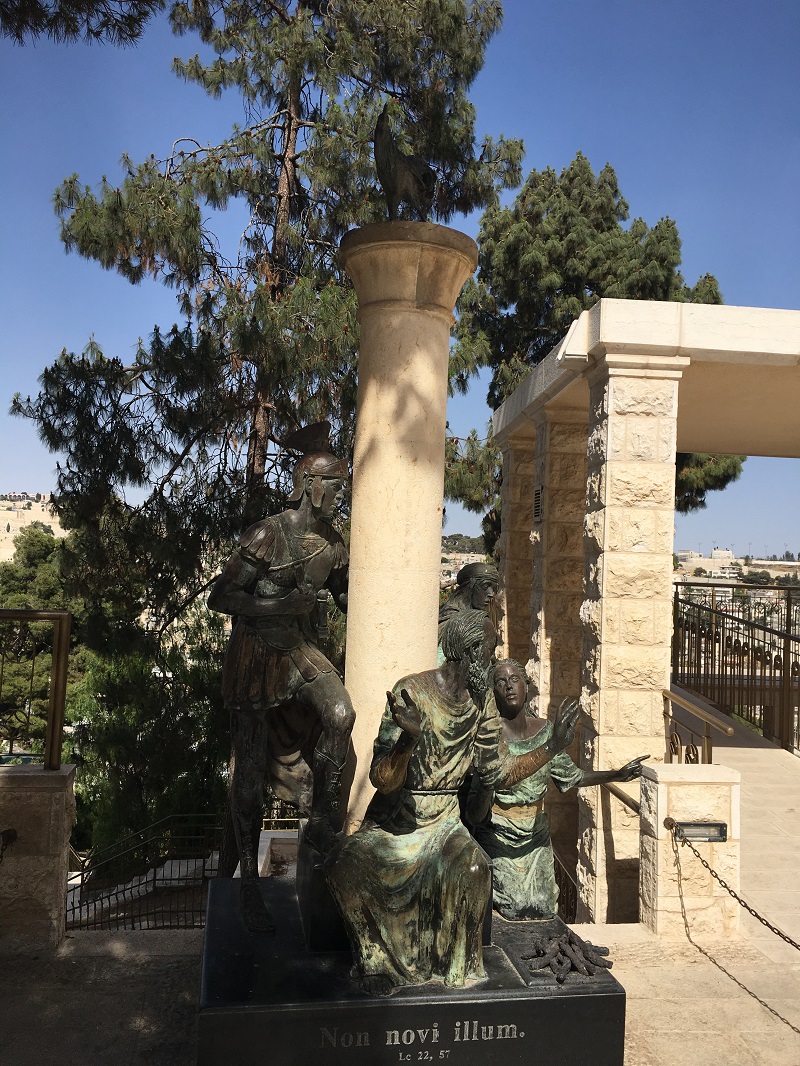 In this dark base of the home, there are holes cut out in the rock where leather straps would have been affixed to strap arms of the prisoners above their heads a little wider than shoulder length apart.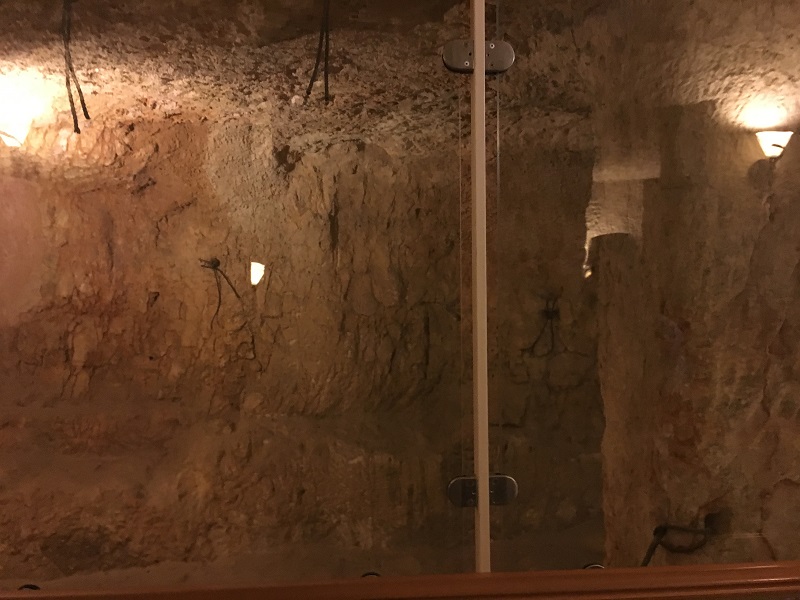 In this pit there was a place of solitary confinement where they would put the worst of the criminals.  In this pit, there is a small hole from above, where the bound prisoner would have been lowered down into complete darkness.  There would be no escaping if someone was placed here.  Between the Jewish trials and the Roman trials, there was a period of waiting for the palace to awaken and be ready for business.  Is it too much to think, that Jesus could have been lowered into that pit, to await His trial before Pilate?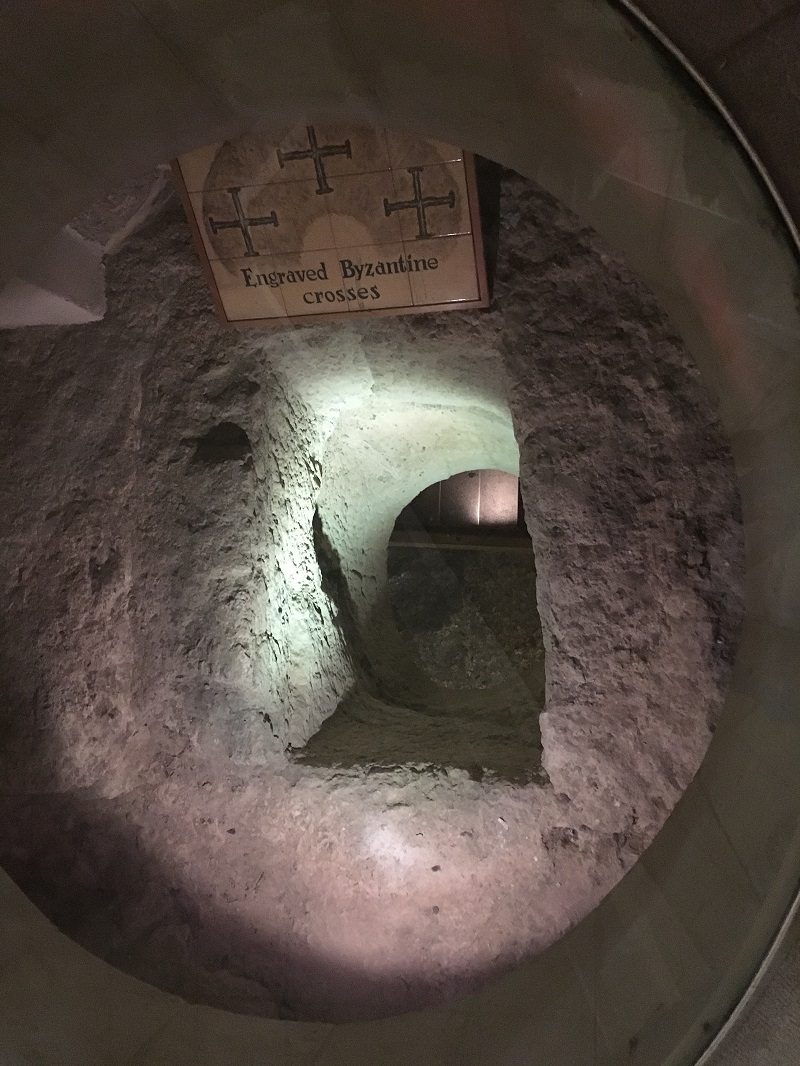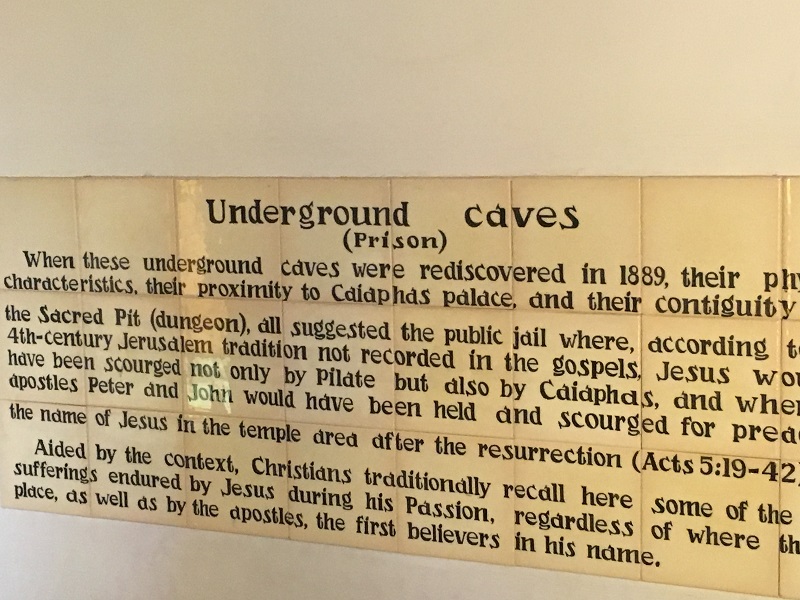 When we descended down to the bottom of the pit, in what is believed to be the house of the high priest, silence overtook us.  Here in this pit we read Psalm 88 aloud, with the aid of a small light:
LORD, You are the God who saves me; day and night I cry out to you.
May my prayer come before You; turn Your ear to my cry.
I am overwhelmed with troubles and my life draw near death.
I am counted among those who go down to the pit; I am like one without strength
I am set apart with thudded, like the slain who lie in the grave whom You remember no more, who are cut off from Your care
You have put Me in the lowest pit, the darkest depths.
Your wrath lies heavily upon me; you have overwhelmed me with all Your waves
You have taken from Me, My closest friends and have made Me repulsive to them.  I am confined and cannot escape;
My eyes are dim with grief.  I call to You LORD, every day; I spread out my hands to You.
Do You show Your wonders to the dead? Do their spirits rise up and praise You?
Is Your love declared in the grave, Your faithfulness in destruction?
Are Your wonders known in the place of darkness or Your righteous deeds in the land of oblivion?
But I cry to You for help, LORD, in the morning, my prayer comes before You.      
Why LORD do You reject Me and hide Your face from Me?
From My youth I have suffered and been close to death; I have borne your terrors and am in despair.
Your wrath has swept over Me like a flood; they have completely engulfed Me.
You have taken from Me friend and neighbor, darkness is my closest friend.  
Can you hear Jesus pour His soul out?  Alone, abandoned and bound. What prophetic words written by David, so many years prior to this night.  Jesus, experiencing the complete and total wrath of God for us–instead of us.  Jesus endured it all.  God not trusting us, His hand-made creation, to anyone else, so He came personally to pay this incredible debt so that we can walk with Him, and know Him as we were created to experience. All this was  done to prove the Scriptures of the prophets.
God DOES love us! God is willing to give everything He has for us to be able to walk with Him and know Him!  God really does look at us like a bride sacrificing all He has for our eternal safety (John 3:16).  Jesus was abandoned, so we are not! This is the Gospel! This is the good news! Jesus was found worthy to the be Lamb at Passover for sin, once and for all!  We have been #delivered from the darkness because He was bound and #delivered to the darkness! So come on!  Come on! Let's live bold and courageous, in the light, while there is still day, #Propelled to tell the Good News! God's wrath has been stilled, by Himself.  Even when all forsook Him, He refused to forsake us.  We are free, we are #delivered, so live #propelled2purpose.
APPLY IT:  
How often do we see what God isn't doing for us instead of what He has and is doing for us?  When was a time that I forsook Jesus, yet He refused to forsake me?
LIVE IT OUT:  
Today, Lord, open my eyes to see your goodness and your faithfulness as I remember the suffering You endured on my behalf.
---
What Scripture are you studying now? What have you learned? How has the Lord spoke to you? Share with us in the comments section.