Welcome to Kendra Graham's Online Bible Study! This is a place where we can come together and share in our journey towards Scriptural truths and spiritual maturity. We pray this will be a safe, respectful, resourceful place to come and discuss God's Word…to discover What it says…What it means…and What it means to you!
Make sure you don't miss a post, just enter your email in the "Subscribe Via Email" box in the upper left hand corner of our blog. It's free and you'll receive these posts straight into your email inbox.
Kendra Graham notes from :  John 21:20-22
20. "Peter, turning around saw the disciple whom Jesus loved following them; the one who also had leaned back on His breast at the supper and said, 'Lord, who is the one who betrays You?'  21. Peter therefore seeing him said to Jesus, 'Lord, what of this man?'  22. Jesus said to him, 'If I want him to remain until I come, what is that to you? You follow Me.'"
THE FACTS:  
Peter turned around and saw the disciple Jesus loved following them. Seeing him, he said to Jesus, "What of this man?" Jesus said, "If I want him to remain, what is that to you? You follow Me."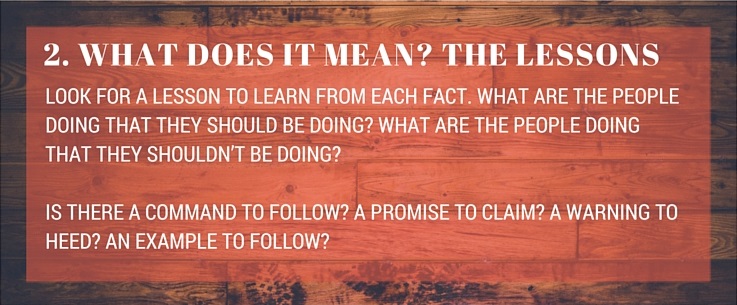 THE LESSONS:   
Isn't this just it? Jesus forgives us, restores us, sets us straight… then– in one moment– BAM! Our focus is lost. I see something shiny and I'm off in another direction in a minute. I like that these verses are in here. Peter struggled with the same things I did!
Jesus graciously and tenderly restored Peter, refocused him on his set purpose, and before the conversation was over, Peter was asking about John.  What about John? Peter had just learned that his purpose was going to be HARD, HARD, HARD–without much personal glory. Tending lambs and feeding sheep is a pretty thankless job; therefore, Peter may have been tempted to think of himself and all his hard work as insignificant. SO…what about John? Does he get platform? Prestige? Wealth? Or is John's lot similar to Peter's? Who gets the better calling and purpose? I am sure none of us have never done that!
I love the simple answer that Jesus gives, don't you? It reminds me of the book in the Chronicles of Narnia series, The Horse and His Boy. The boy in the book sees Aslan the lion wound his friend. The boy is confused.  Aslan is supposed to be a good lion. Why would he injure like that on purpose? The boy asks Aslan why he hurt his companion. Aslan answers, "Child, I am telling you your story, not hers." Isn't this just it? Jesus is telling Peter his story, not John's or Andrew's or Bartholomew's. Jesus tells me and you our individual stories, not the stories of our spouse or our children.
 Your life has purpose. Your life has incredible meaning. Your life is not insignificant like the enemy pleads for us to think. The purpose and meaning of your life is found in those same two words that Jesus told Peter: "Follow Me."  It does not matter what anyone else has been called to do or not to do. What matters is that today, you and I follow Him. Get into God's Word. Allow God's Truth to focus you for the day. Truths are hard. Set your mind and your heart on them. Hear Jesus say to you in this moment, "Follow Me." The choice, as always, is yours to make; but, oh, the places you will go and the miracles you will see, even in the mundane… if each of us will personally, individually choose to follow.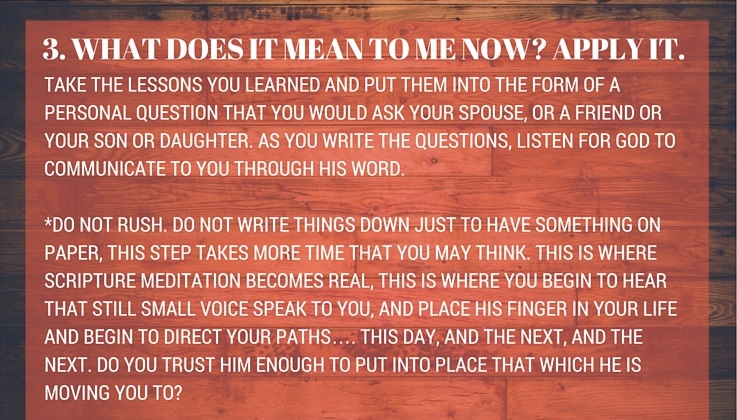 APPLY IT:  
Have you ever compared what God has called you to do versus what God has called someone else to do? Have you ever thought you would have more success and do a better job if God called you to XYZ instead of ABC?
What will you choose this day? Will you choose to settle your heart into God's Word and follow Him? Or will you lay down some options for your life that you need God to follow on your behalf?
LIVE IT OUT:  
Today, Lord, help me to keep my eyes on You… not looking around seeing how everyone else seems to have it together and I don't. Help me to follow Your lead today for the entire day… then give me the strength to make the same choice tomorrow. Everything inside of me seems to always want to veer off the rails. Keep me focused.
---
What Scripture are you studying now? What have you learned? How has the Lord spoke to you? Share with us in the comments section.