Welcome to Kendra Graham's Online Bible Study! This is a place where we can come together and share in our journey towards Scriptural truths and spiritual maturity. We pray this will be a safe, respectful, resourceful place to come and discuss God's Word…to discover What it says…What it means…and What it means to you!
Make sure you don't miss a post, just enter your email in the "Subscribe Via Email" box in the upper left hand corner of our blog. It's free and you'll receive these posts straight into your email inbox.
Kendra Graham notes from :  John 21:18-19
"Truly, Truly I say to you, when you were younger you used to gird yourself and walk wherever you wished; but when you old you will stretch out your hands and someone else will gird you, and bring you where you do not wish to go."  (19) Now this He said, signifying by what kind of death he would glorify God.  And when He had spoken this, He said to him, "Follow Me."
THE FACTS:  
Truly Truly when you were younger you used to gird yourself, walk where you wished.  When you grow old someone else will gird you and bring you where you do not wish to go. This signifying what kind of death he would glorify God.  Then He said, "Follow Me."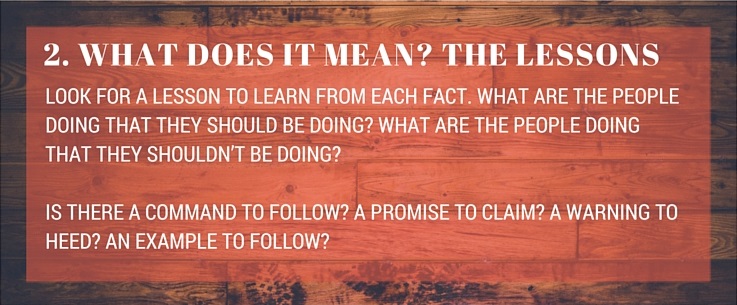 THE LESSONS:   
Have you ever told God what you would and wouldn't do for Him?  Some of us have ideas of what we're fit for and what we would do if God trusted us with the spotlight.  Peter was no different.  Remember John 13:37…Peter announced he would follow Jesus to the death!  Peter was impulsive and thought more of himself than he ought to at that moment.  Peter is really no different from any of us, is he? Peter did what he wanted to do for Jesus in the way he, Peter, wanted to do it.
That very night, after Peter made his bold claim, he was humbled after his multiple denials of Jesus.  Peter wept bitterly (Matthew 26:75).  Peter's arrogance in leading the disciples, and showing them how things were done, had evaporated, melted away in shame and guilt.  In Matthew 16:18, Jesus said that "Upon this rock, I will build My church," meaning upon Peter, God would work to build His church.
Was Peter's providential purpose over?  Was Peter no longer qualified?  How could such a big thing be done through a denying disciple? Would that purpose now fall to another person who didn't make such a big mistake?
In John 21, Peter realized he did not agape (self sacrificing love) Jesus at all, but only had phileo (friendship).  This was a blow to Peter's ego and he knew his denial of Jesus broke Jesus's heart.  Peter is in pieces! Deconstructed all the way to the soul!
Ahhhh…NOW Peter's heart is ready.
Jesus began the reconstruction process of Peter by publicly restoring him so that he and the disciples would know that he still had a purpose–a call on his life.  Peter's providential purpose did not change because of what Peter did.
How many of us think we can change that purpose spoken over our lives by God Himself, because of something we do?  That is pure arrogance.  Peter was in need of restoration, and Jesus publicly restored his heart and reiterated his call! Peter had been #delivered from the guilt that his denials had on his heart,  and was #propelled to follow through with his purpose, for the church, that Jesus stated with all authority back in Matthew 16:18!  #Delivered and #propelled so Peter could tend the lambs and feed the sheep of the church in humility!  Leading through humility! It's the opposite of what most of us think or want to do.  We want to be leaders, absolutely, but humility can find someone else to rest on.
Peter did things the way he wanted before the cross, and now after the cross, Peter would do things the way Jesus asked.  Peter went from following Peter's ideas of what Jesus wanted, to following Jesus.  Jesus tells Peter that he will indeed follow Him to his death.  Peter will be bound as Jesus was bound.  Peter will glorify God in his life and his death.  A hard but encouraging Truth.
Jesus ends Peter's moment of restoration with the same question He began with three years earlier,  Peter, "Follow Me."  THE CALL NEVER CHANGES! Jesus will not force Peter to do that providential purpose He has for him, but simply asks and then waits for a response.  This is what it will look like Peter, are you in or out?
Today the question remains the same, to you and to me.  Jesus invites us to follow Him.  Will we follow, or will we choose to miss everything we were created for?  Do we want to give Jesus an approved list of things we are and are not willing to do? Or will we simply, day by day, just follow Him?  Do we prefer to lead in arrogance, trying to press God into our mold, or will we allow God to reconstruct us and restore us to follow Him and lead others in humility?
Don't refuse to be restored.  Allow God to bring out what has been hidden so you can be #delivered, #restored to LIFE, and then #propelled to His purpose.  God's purpose for you is a bazillion times better than your purpose for you… we just have to give up control and follow… bound to whatever and wherever He leads.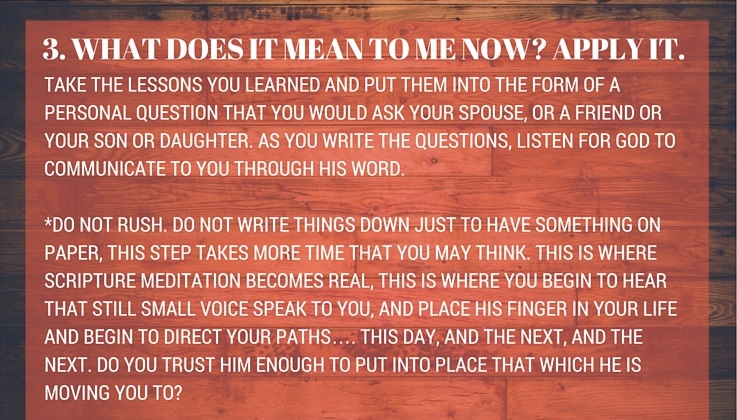 APPLY IT:  
Are you fighting the restoration process because you would rather things stay hidden in the dark?
Sometimes we fight restoration because our lives are being choked by guilt.  Do you think you have ruined and soiled any purpose God may have had for you because of what you have done?  Are you willing to ask God what His purpose for you is, and then to follow as He restores you? Are you willing to allow God to #deliver you and then #propel you to His purpose?
Why are you fighting so hard against following Jesus?  Put honest words to it.
LIVE IT OUT:  
Today… Lord, help me follow where You lead.  Begin that restoration process on my soul, and as you begin to sand away the rough edges, and de-construct things to re-construct things… give me the courage to allow You to do so.  I cannot follow without Your strength, courage and love.  Help me to follow You in humility.
---
What Scripture are you studying now? What have you learned? How has the Lord spoke to you? Share with us in the comments section.