Welcome to Kendra Graham's Online Bible Study! This is a place where we can come together and share in our journey towards Scriptural truths and spiritual maturity. We pray this will be a safe, respectful, resourceful place to come and discuss God's Word…to discover What it says…What it means…and What it means to you!
Make sure you don't miss a post, just enter your email in the "Subscribe Via Email" box in the upper left hand corner of our blog. It's free and you'll receive these posts straight into your email inbox.
Kendra Graham notes from :  Esther 4:13-14
"Then Mordecai told them to reply to Esther, "Do not imagine that you in the king's palace can escape any more than all the Jews..  (14) "For if you remain silent at this time, relief and deliverance will arise for the Jews from another place and you and your father's house will perish.  And who knows if you have attained royalty for such a time as this?"
THE FACTS:  
(13) Do NOT imagine that you can escape any more than all the Jews.
(14) If you remain silent at this time, relief WILL arise for Jews from another place.  Who knows if you have attained royalty for such a time as this?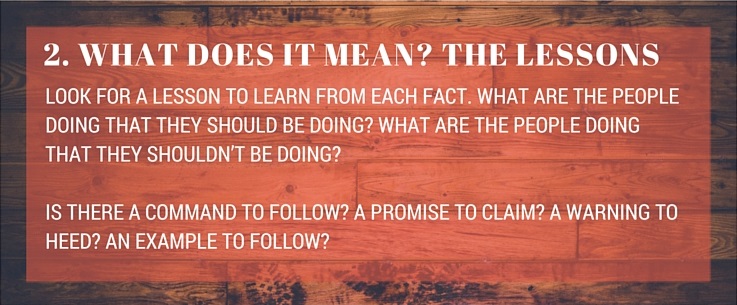 THE LESSONS:   Defining moments…we all have them in our lives.  Everything is fine, until it's not fine–then what you do matters more than you think.
Esther has been challenged here by Mordecai.  Esther's people–her kindred–are marked for extinction; and if Esther hadn't realized: she is queen.  Esther lays out some incredibly logical reasons why she was not in a position to help, she couldn't afford to put her very life on the line in front of a king who had little to no value for life at all.  Mordecai basically tells her, "Esther, you can't afford not to."
"Esther, do you think your title, your amazing Jimmy Choo shoes, or the spa treatments that have kept your skin remarkably smooth will protect you when it really comes down to it?  Do you really think that?  Because the fact is…. you are a Jew."
If Esther does not stand up now, then she will be doomed to live in fear until she does.  She will do herself and her people no favors if she doesn't speak now.
Mordecai then presses with a great #Truth but a hard #Truth.  Esther, God will #deliver us.  For the sake of His name (I Samuel 12:22, Ezekiel 20:14, 36:22, Jeremiah 14:21) God WILL deliver us.  Mordecai knows in Whom he believes.  Perhaps, Esther, you were chosen to be queen for such a time as this.  DO NOT forget who God is.
Now that is a defining moment!  It's not about us–it's about God.  This is a hard Truth…none of us are indispensable.  No matter what position, power, prestige or wealth we may have, or not have… when God is not permitted to rule, He OVERRULES.  God is on the move.  God's plans cannot be thwarted by the incarnation of evil, by a cruel power-hungry king, or by a queen who is scared to death.  The question is, will you join God, where you are, where He is working?  He invites us to join Him, but the choice–that defining moment of choice–lies with each of us.  Our platforms won't save us, our influence won't save us, our ingenuity won't save us… but God, for the sake of His name, #delivers us.
This passage of Scripture begs the question, "Why are you where you are?  Why have you had the life you have had, the mentors you have had, the family you have had?  Why are you at the job you have, have the friends you have?"  Some of you know exactly what God has called you to.  The time for deliberating is done.  If you refuse, God will use someone else.  It's not about God getting His work done… it's been done before the foundation of the world. It's about you allowing God to inscribe His name all over your life, where you are.
You are providentially placed, and it is NOT about what you want to do… it's about what God wants to do through you to transcend your moment in history.  For such a time as this, you have been placed in your classroom, in your school, in your neighborhood, in your church, in your community, in your diner, cleaning those houses, taking care of those patients, raising those kids, running that store, working that cash register….
Everything is fine–until it's not fine.  This call on Esther's life was HUGE… life and death! The call on your life is equally HUGE… life and death.  It's time we finish the deliberating… it's time we stop with the logical reasons why we just can't right now… it's time, in this defining moment of today, that we decide to answer the call for or against.  For the sake of His name, God will #deliver His people… He will #deliver you…it's already done.
In your world full of broken dreams, where the #Truth is hard to find, where you have been let down, more than you have been lifted up, where it seems nobody cares–really cares–for you, it still matters what YOU DO.  There is a difference YOU have been called to make–providentially–but the choice is up to you.  NO one can make it for you–not your priest, pastor, mentor, parents or friends.  There is a voice that keeps calling out for someone who is not afraid to obey  (For the eyes of the LORD run to and fro throughout the whole earth to strengthen those whose hearts are fully committed to Him  –2 Chronicles 16:9.)  Will you be the one to answer that call?  If the LORD provides the power, will you reach deep down into the depths of your debating and deliberating, and #decide… YES! I will be the one.  Today is your defining moment.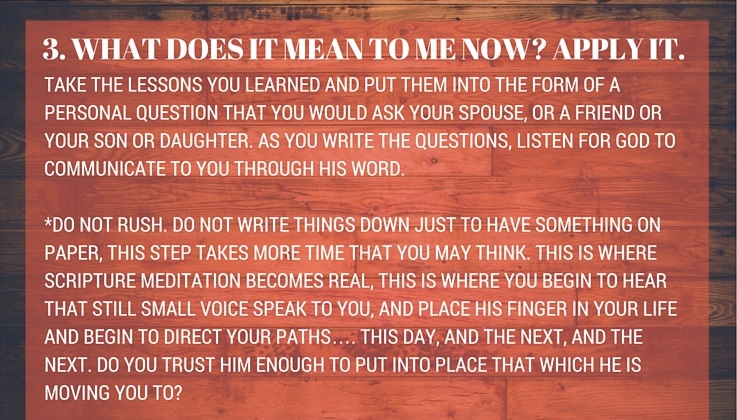 APPLY IT:  What call has God placed on your life where you are TODAY?  How have you deliberated that calling away with logic?  Are you willing to ask God what His call is on your life, or is it better to have plausible deniability?
LIVE IT OUT:  TODAY…. the people I run into, the places I go… I will look for the hand of God working.  Today I will be one whose heart is fully committed to God.
___________________________________________________________
If you're in the local area and can attend our free annual Women's Bible Study at The Cove, it's not too late to join us!  We'd love to see you in person.
Registration is open and you can sign up online for Kendra's evening study or by calling 1-800-950-2092.  (Click here to sign up for the morning study with Jane Derrick.)
---
NOTE: If you are unable to attend Kendra's winter Bible study at The Cove in person (January 10 – February 21, 2017),  we will continue the online study as well, using lessons shared during the LIVE study.  We are also streaming the study LIVE via Periscope.  Can't watch live?  Don't worry, you can catch the replays in the Periscope app indefinitely.  We will begin streaming LIVE each Tuesday evening around 7:15 p.m. ET (give or take a few minutes).
Not sure how to use Periscope? 
1. You must first sign up for Twitter (it's free).  Click here for step-by-step instructions.
2. Then you sign up for Periscope (it's free).  Click here for step-by-step instructions.
Make sure to follow The Cove on Twitter and Periscope, so you will be notified when we go LIVE.  We are @TheCoveNC.