Welcome to Kendra Graham's Online Bible Study! This is a place where we can come together and share in our journey towards Scriptural truths and spiritual maturity. We pray this will be a safe, respectful, resourceful place to come and discuss God's Word…to discover What it says…What it means…and What it means to you!
Make sure you don't miss a post, just enter your email in the "Subscribe Via Email" box in the upper left-hand corner of our blog. It's free and you'll receive these posts straight into your email inbox.
Kendra Graham notes from Romans 9:12, 17
It was said to her, "The older will serve the younger."
For the Scripture says to Pharaoh, "For this very purpose I raised you up to demonstrate My power in you, and that My name might be proclaimed throughout the earth."
THE FACTS:  
The older will serve the younger.
For THIS purpose I raised you up, to demonstrate My power in you, that My name proclaimed throughout the earth.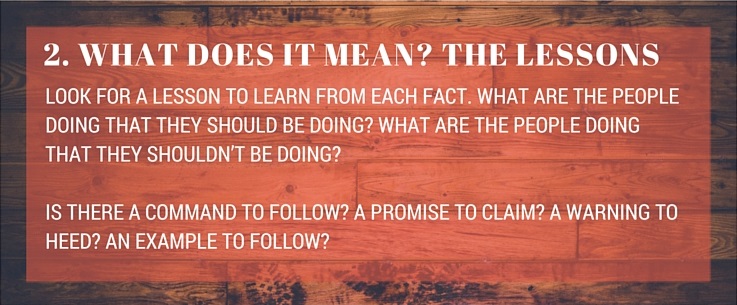 THE LESSONS:   
Welcome to Herod's Judea!  Well, that is what Herod the Great would have liked everyone to say from his time on earth until the end of time.  Herod had an eye for architecture and could be described with ease as a master builder.  Herod, like many of the Roman rulers, had a problem with extreme arrogance and desire for power, prestige, and significance.
Herod was not a Roman Caesar but was given a decent chunk of the Roman empire to rule and reign over.  Herod was going to press as close to that line where Octavian (Caesar Augustus) walked as he could without being labeled a threat by the empire. Herod wanted to be remembered until the end of days as one of the greatest of all time.  Truth be told, most people when asked about who "Herod the Great" was would probably mention something about killing baby boys during the time of Christ.
The Herodium is located 7 miles south of Jerusalem and 3 miles southeast of Bethlehem.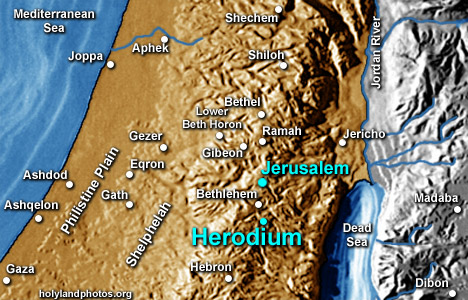 The Herodium rises out of the Judean desert like a volcano.  This fortress, and others built by Herod, were built due to Herod's paranoia of the Jews.  Herod was never worried about his throne being taken away by Caesar, but Herod never trusted the subjects he ruled over.  The towers in Jerusalem, for instance, were strategically placed so that he could monitor those inside the walls, not those who could come from the outside.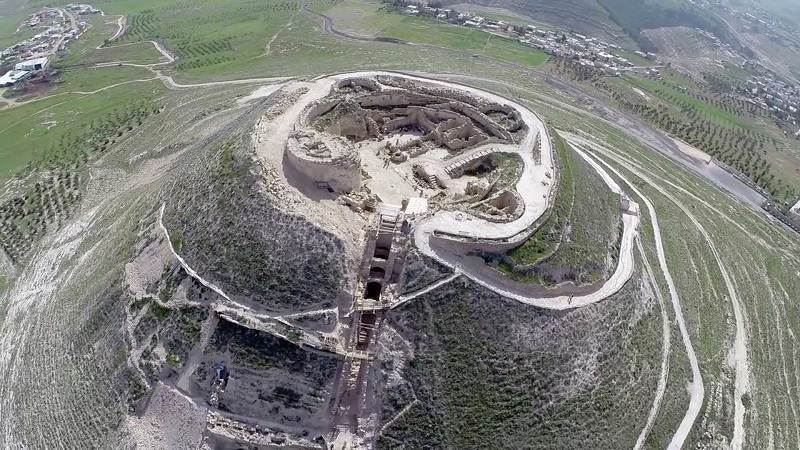 Herod was an Edomite, a direct descendant of Esau (the older brother).  Herod was also a ruler of Israel, the descendants of Jacob (the older ruling over the younger).  Isn't that interesting?  Out of all the people that could have ruled over Judea at that specific time when Jesus the Messiah was born,  was an Edomite.
Scholars think that the place the wise men came to inquire of Herod could have easily been at the Herodium due to its proximity to Bethlehem. The star the wise men were following could have taken them towards Bethlehem; as they approached and caught sight of  this massive castle-like structure rising out of the desert, it surely must have caught their attention. This structure breathed power and prestige–a place fit for the King of kings.  Who else would be able to create an oasis out of an empty desert?  It makes sense that when Herod (the older, from Esau) heard the news of Jesus (the younger, from Jacob) being a king, it fed his paranoia.  The Word of God, the Truth, will always prevail.  I think Herod deep in his heart knew that but would fight against it until the day he died. Much like many of us today.
The dichotomy between wealth and power according to the world's standards and God's standards are seen when we compare Jesus and Herod.  Jesus was born in Bethlehem, the city of David.  Jesus was not born in a prestigious man-made fortress, on top of the world so all could see, but Jesus was born in one of the thousands of shepherds caves carved out by the hand of God.
Herod the Great jockeyed for position in the Roman Empire to satisfy his thirst for power and prestige to be recognized as a deity.  Herod had no regard for human life but killed anyone who would threaten his throne.
Jesus, in humility, walked with God daily and was compelled towards men and women, (His handmade creation). Everything Jesus did was focused to show the power and glory of God as He proclaimed God's name throughout the earth.  Jesus left this world without building one structure that we know of.  Jesus left nothing that we can say with certainty was owned by Him.  Jesus lived to give His life on a cross, bearing complete shame so that we can live life and live it abundantly (John 10).  Jesus gave all He had away, even to His last breath, yet the impact He has had, has far outweighed Herod who tried so hard to build lasting impact. Jesus lived a life of faith in God, showing us God's Word and character can be trusted.
Herod chose to put his trust in bricks and mortar so that his legacy would live on throughout the ages.
The older will serve the younger. The Truth of God's Word was bitter to Herod, not that he even knew or wanted to know it.  Herod listened to the traveling wise men and anger and jealousy grew in his heart.  Herod wanted Jesus and everyone else to bow to him, to worship him, to legitimize him as ruler, and if not, he would be sure that the traitor who challenged his throne was killed.  The kill order went out and all the baby boys 2 years and under were slaughtered so that Herod could maintain his crown.  Herod thought he held all the cards, but in a moment, in a cave, in the town of Bethlehem, just 3 miles away, Jesus changed the timeline of human history. BC became AD in a moment.  Now that is power.  Herod could not touch Jesus.  Jesus is God with skin on, and the younger ruled over the older, whether Herod realized it or not.
The Bible says in Philippians 2:9-11, "For this reason, God highly exalted Him (Jesus), and gave Him the name which is above every name, so that at the name of Jesus every knee will bow, of those who are in heaven and on earth and under the earth, and that every tongue will confess that Jesus Christ is Lord, to the glory of God the Father."
Everyone, even Herod the Great, will bow to Jesus.  The older will serve the younger.  God's Word is True.  We may not like it, it may leave a bad taste in our mouth, it may anger us to no end, but it does not change the Truth of who Jesus is.  We all must make a decision about who Jesus is.  Herod chose to trust in his bricks and mortar.  Jesus is still making a living worldwide impact today, and where is Herod?  Herod's masterpieces are just that, in ruin pieces.  Choose you this day whom you will serve (Joshua 24).
We are created for impact.  We are each created with individual fingerprints to leave God's unique imprint on the world around us.  It isn't about me or you–it's always been about Jesus.
WHAT DOES IT MEAN TO ME?
Who do you say Jesus is?
Will you set down your own ideas of grandeur and impact and be willing to bend your knee to a God who is so relentless for you, He died for you?
How will you today, in the things you do and the things you say, allow God to demonstrate His power and His name through you?
LIVE IT OUT:  
Today, ask God how He wants to show you who He is.
Jesus, today I confess with my mouth that You are Lord, not me.  I confess that You died and rose again so that I can live that abundant life You have set aside for me.  Teach me Your Word and show me what it means to follow You.
– Kendra
P.S. Ladies, registration is open for my 2018 Women's Bible Study at The Cove.  Let's get together seven Tuesday evenings in January and February and dig into the Word of God.  Register online today.
Can't make it in person?  We'll be streaming LIVE each Tuesday evening on Periscope, via Twitter, where you can watch from the comfort of your own home.
Watch the 2018 Women's Bible Study video here: