We hope you will enjoy our "Prayer Note"—an internal communication here at The Cove, created each month to remind and encourage our staff to pray. We share these with you at the beginning of each month in hopes that you, too, will be encouraged.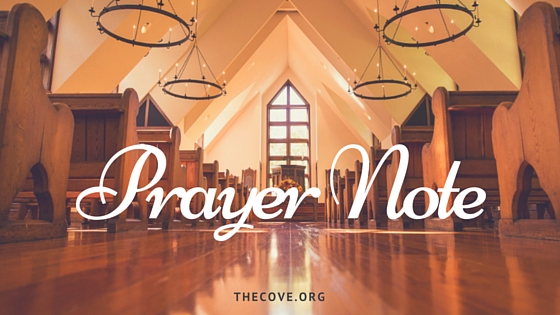 "It cost Christ and all of his followers sharp showers and hot sweats, [before they made it] to the top of the mountain; but still our soft nature would have heaven coming to our bedside while we are sleeping, and lying down with us so that we might go to heaven in warm clothes."   —Samuel Rutherford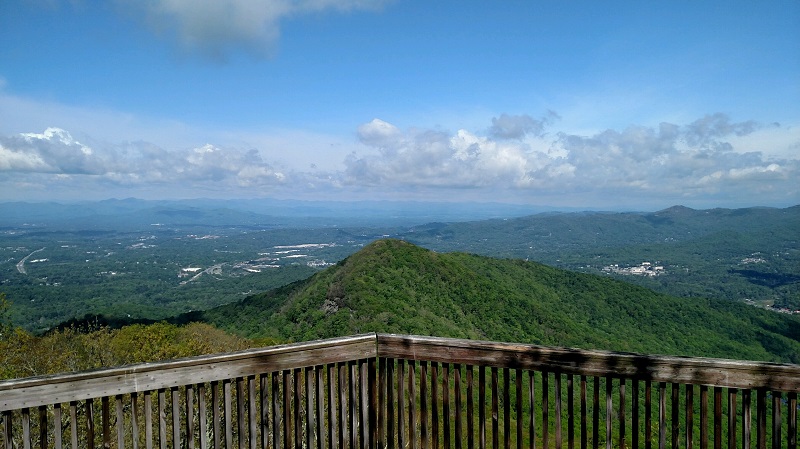 OVERLOOK PRAYERS
In May of this year, we were pleased to welcome Chip Ingram and over 200 military service personnel and spouses for a Military Marriage Retreat at The Cove. Aside from Chip's powerful Bible teaching and practical insights on marriage and family life, there was a fun and light-hearted "first" at this weekend retreat. On Saturday (the day before the retreat ended), participants were invited to compete in the "Race to the Top," making a challenging 4-mile hike to the top of the Cove Overlook.
Awards were given to the winners in the male and female categories, and we enjoyed hearing stories and viewing social media posts from those who completed the race.
Another Military Marriage Retreat will be held this month (September 8-10). Rev. Tommy Nelson will teach on "The Art of Living Well in Marriage," and the couples will again be invited to compete in another "Race to the Top."
EVERYBODY WINS
There are two "official winners" in the strenuous event; yet the real reward for completing the race is given freely to everyone who makes it to the top of the precipice: a breathtaking view of God's creative work. If you've ever made the trek to the Overlook, you know. The Cove's lush, green canopy of trees stretches out below, while the towering white steeple of Chatlos Memorial Chapel points heavenward as a testimony to grace.  Above and beyond rise the misty blue, green and gray shades of the Blue Ridge Mountains. The panorama is definitely worth the hike!
Of those fearless warriors who accomplish the feat, many pause not only to catch their breath, but also to sit and pray, hearts quiet before their Creator, in awe of the majesty and beauty of His creation.
PERSEVERING IN PRAYER
It might seem easier to pray in a picturesque setting like the Overlook, gazing out over the world from a higher vantage point; yet the majority of our prayers are prayed at street-level, trying to escape the distractions of everyday life and the temptations of our daily struggle with self and sin. In our real-life "Race to the Top," we may often feel we take one step forward and slide two steps back.
Even on the mountain-top, it may seem as if our problems, distractions and failures have followed us up the slope—or maybe even beaten us to the top—meeting us there with accusations of guilt. "What do you think you're doing, kneeling atop this mountain? You're in no condition to pray! Just take a look at this long list of sins you've committed and important tasks you've left undone. Why, if I unrolled the whole thing it would stretch all the way back down to the valley."
So much for Overlook prayers. But before getting up from your knees and giving up—before you start down the path of prayerlessness, remember the hope-filled words of the psalmist David. "I will lift up my eyes to the hills—from whence comes my help? My help comes from the Lord Who made heaven and earth" (Psalm 121:1-2, NKJV).
Not only does our salvation, our life and our very breath come from God, but our ability to pray is a gracious gift from Him as well. As Billy Graham once said, "God Himself is the power that makes prayer work."
The location doesn't matter—whether you're voicing a prayer from the scenic vantage-point of the Overlook or seeking the Lord with your head leaning over a mop bucket, He's ready to hear. Whether you've had a victorious week of seeing God at work and sensing His presence or a week of failures and straying from His will, He's ready to forgive.  Because Christ's blood cleanses our sin when we confess it (1 John 1:7) and His Holy Spirit helps us in our weakness and makes intercession for us (Romans 8:26), God stands ready to hear our prayer. Like the "Race to the Top" of the Cove Overlook, the journey to persevering prayer is worth the effort.
"Continue earnestly in prayer, being vigilant in it with thanksgiving" (Colossians 4:2, NKJV).
During the month of September, pray especially for the military couples who attend the retreat. Pray for healing of relationships, rest for war-weary hearts and minds, and victory over battles with sin and temptation.  We are honored to serve these couples who have sacrificed so much to preserve and defend our freedom. Now let's be faithful to pray for them.
"Run with patience the race that is set before you" (Hebrews 12:1, NKJV).
—Donna Riesen
---
We appreciate you joining us in prayer for the following events taking place on The Cove property during the month of September.
Oh come, let us worship and bow down; Let us kneel before the Lord our Maker.   (Psalm 95:6, NKJV)
SEPTEMBER CALL TO PRAYER
Erwin Lutzer — September 5-7
The Mysteries of God: Drawing Near to the God We Love, Fear, and Struggle to Understand
An Evening at The Cove with Travis Cottrell — September 7
An evening of fellowship, delicious food and uplifting music!
Tommy Nelson — September 8-10
Military Marriage Retreat — The Art of Living Well in Marriage
Chip Ingram — September 15-17
The Real God: How He Longs for You to See Him
SeniorCelebration: James Merritt with Sisters — September 18-20
Out of Options? Relying on God in Desperate Times
Please join our brothers and sisters in Texas in prayer today.  Sunday, Sept. 3, has been proclaimed a Day of Prayer in Texas by Governor Abbott.