"There are two gorgeous chapels in eastern America.  One is at Duke University and the other is here at The Cove."  Billy Graham

The Chatlos Memorial Chapel and Visitor's Center is nestled on the 1,200 acre property of The Cove, The Billy Graham Training Center, in the mountains of Asheville, NC.  Take a free tour or enjoy a few minutes alone for prayer and reflection in the elegant simplicity of this beautiful place.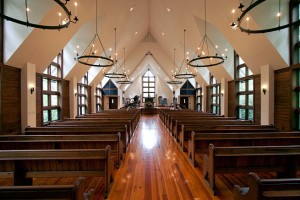 The building is constructed using blue granite stone hand hewn by local craftsmen and is furnished with antique pews from the Royal London Society for the Blind, a 400-year old pulpit from the Church of England and handcrafted wrought iron chandeliers. 
Our Visitor's Center includes an "Ambassador for God Around the World—Billy Graham" display and a tour guide will share interesting facts about the ministry. 
The Chatlos Memorial Chapel and Visitor's Center is open weekdays from 9 a.m. to 5 p.m.  We are also open on Saturdays in the Fall from 9 a.m. to 1 p.m. (October 6 – November 17, 2012).  The Cove is closed to visitors during most major holidays and other special occasions.  Admission is free.  Come see us!      
Would you like to meet a few of the wonderful tour guides at The Chatlos Memorial Chapel?  Watch here as Rip, Wanda and Dawne share their experience volunteering at The Cove. 
Click here for more information or to view photos of the Chapel.   
Click here for a schedule of Cove seminar, leadership training, senior adult events, personal spiritual retreat and concert dates.