The Chatlos Memorial Chapel
Written by Donna Riesen,  Program Communications Assistant
On a misty, overcast Friday morning in early April I walk the wide gravel path up to the Chapel. Pausing just outside the doors of heavy black walnut I read again the Scripture carved into a heavy stone mounted to the right of the entrance: "Behold, heaven and the heaven of heavens cannot contain Thee; how much less this house that I have built" (2 Chronicles 6:18, KJV). Once inside, I walk across the heavy stone floors and into the sacred space of the Chapel sanctuary, a beautiful space that exudes a simple yet solemn reverence without stuffiness or pretense. Tall, expansive windows allow the beauty of God's creation to enter and speak volumes to the soul. The gleaming wood of the walls is in perfect harmony with the natural beauty outdoors. From floor to ceiling the eye and the heart are drawn upward. Is this what Mrs. Graham intended?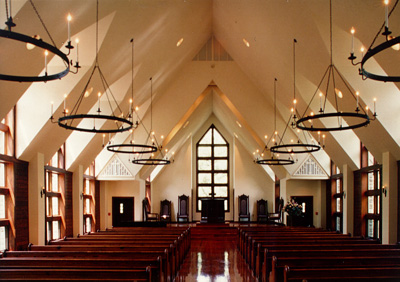 On staff at The Cove for more than five years, I've heard the stories about the history of the Chatlos Memorial Chapel—how Ruth Graham had a hand in its design and plans. Her gracious spirit, love of beauty and appreciation for rustic, local handcrafted woodwork are seen in charming touches throughout The Cove. But above any other location on The Cove's property,  many feel the Chapel brings us closest to seeing the world through Ruth's eyes.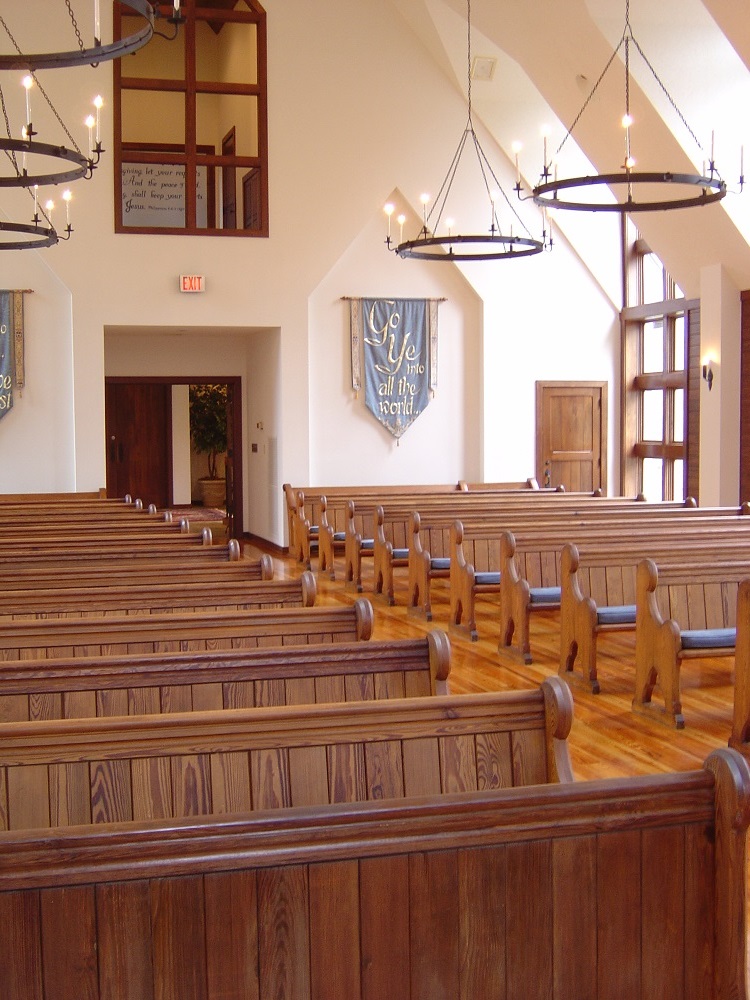 After taking in the quiet beauty of the sanctuary, I climb the short stairwell to reach the small prayer room above the rear of the Chapel. By no mere accident, the prayer altar is situated directly beneath the steeple and the cross. A lighted globe sits in the center of the prayer table—a testament to the heartbeat of evangelism that pulsed through both Billy and Ruth. Mabel, a Cove volunteer of 3 to 4 years, welcomes me in and offers to sit and chat for a few moments. "What's it like to serve as the volunteer assigned to the Chapel's prayer room?" I ask. "Do you get the chance to pray with people very often?"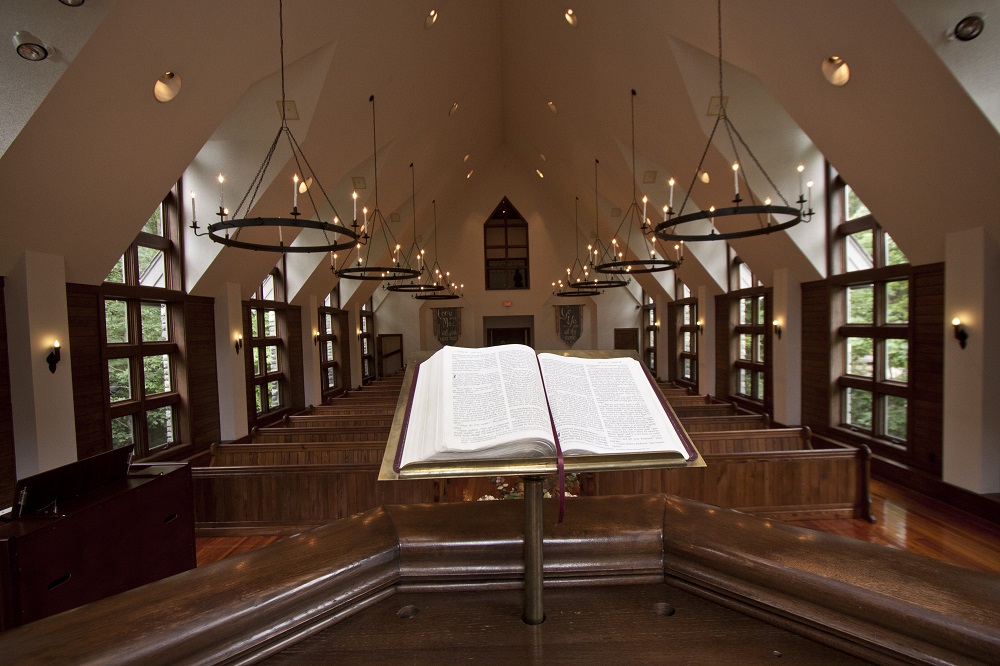 Mabel's eyes light up. "Well," she says, "When I ask if they have a prayer request some people are too shy to say. I can usually tell whether or not they're interested in having me pray with them."
"And what if they are?" I ask.
"If there's a group, I always ask if they'd like to hold hands, and then we pray. Right here under the steeple," Mable explains.
I can tell Mabel is an experienced prayer warrior, and as she shares a little of her personal story with me I begin to understand why. A senior adult, Mabel sent a lot of prayer requests heavenward before ending up at The Cove as a Chapel volunteer. After enduring the heartbreak of losing a son to a brain tumor and then saying farewell to her husband who died 6 months later, Mabel was despondent and crushed. While she knew without a doubt that both her loved ones were in Heaven with Jesus, Mabel was unsure how to proceed on this new pathway through the wilderness of grief and loss. "I ask my Heavenly Father anything I want to," she exclaims, "And if you ask God to show you what to do next, He will!" Through her involvement with the Women's Bible Study at The Cove, Mabel learned about the need for Chapel volunteers and eventually found her niche here in the prayer room. With the confident assurance of one who has seen God work she declares, "God does answer prayer!"
We talk a little more about what it's like to have the privilege of praying with those who request it. "Well sometimes," Mabel confesses, "It's hard not to cry with them when they share their requests. Sometimes even the men open up!"
"All of us have problems," she notes. "Sometimes so many hit us at once that we're almost afraid to look up!" Sitting here in the quiet of this small prayer room, directly beneath the 87-foot steeple with its 8-foot cross, I'm sure this is what Ruth Graham intended. She intended for us to look up.
Jerry Miller, former director of the Billy Graham Training Center at The Cove, tells the story of how Ruth influenced the construction of the Chatlos Chapel's steeple. "The architects had the steeple at a certain height," Jerry says. "We told that to Mrs. Graham and she said, "That's not tall enough." When asked how high she wanted it, she replied with an uncertain "I don't know."
Jerry explains how the solution was reached. The chapel was built using a crane in order to avoid cutting down trees. "We got the contractor with the crane and we got him out there with the architect," Jerry says. "We got him to raise the ball on the crane and put the ball where we wanted to put the steeple."
"I turned to Mrs. Graham and said, 'You just look at me, and if it's not high enough, you tell me.'"
As Jerry relates, the crane rose higher and higher; but every time he looked at Mrs. Graham she said it wasn't high enough, so the contractor was told to keep going. Finally, Mrs. Graham's lofty goal was reached and she nodded her approval. The steeple was built to a height of 87 feet, with an 8-foot-tall copper cross on top.
On this warm April day, the steeple with its cross towers above The Cove's green canopy of trees, inviting us to look up and seek our Creator, whom "the heaven of heavens cannot contain." And Mabel, just one of an army of faithful volunteers, points visitors heavenward. Exactly as Ruth intended.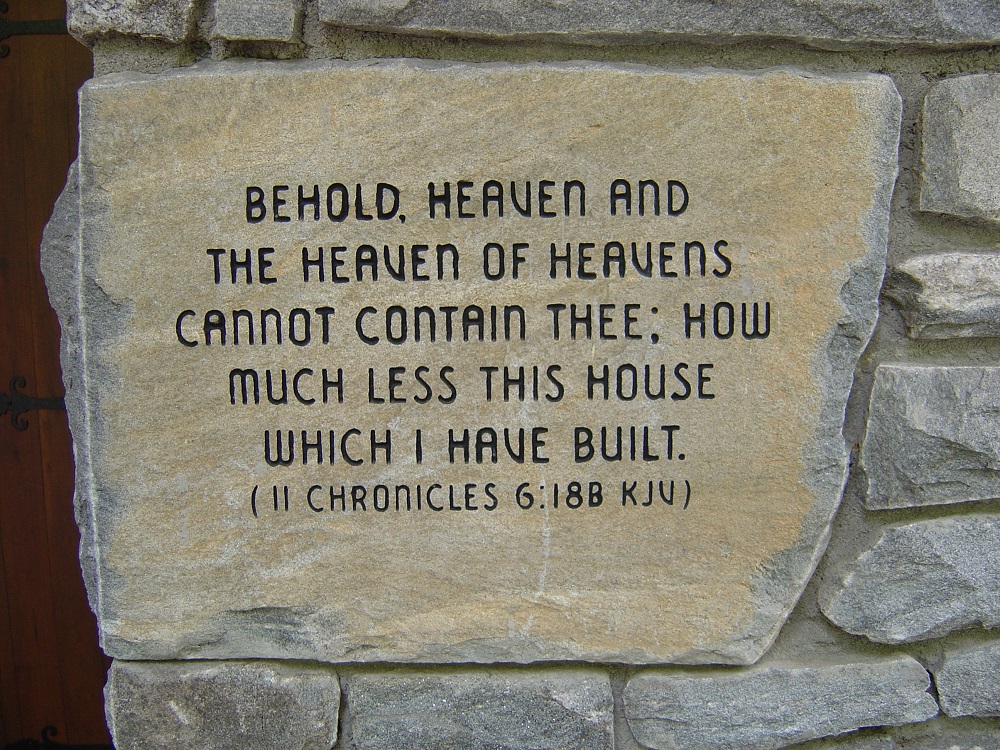 With heartfelt gratitude to Mabel and every Cove volunteer:
Thank you for your faithful service in helping us carry out our mission of training people in God's Word to win others to Christ.
The Billy Graham Training Center at The Cove has a large number of volunteers who assist us in all areas of operation. Among these are 84 volunteers who help us greet visitors at the Chatlos Memorial Chapel and Cove Visitors Center.
Happy National Volunteer Week!
April 12-18, 2015
Click here for information and hours for the Chatlos Memorial Chapel and Visitors Center.
If you would like to volunteer at The Cove, click here to complete the volunteer application.