We hope you will enjoy our "Prayer Note"—an internal communication here at The Cove, created each month to remind and encourage our staff to pray. We share these with you at the beginning of each month in hopes that you, too, will be encouraged.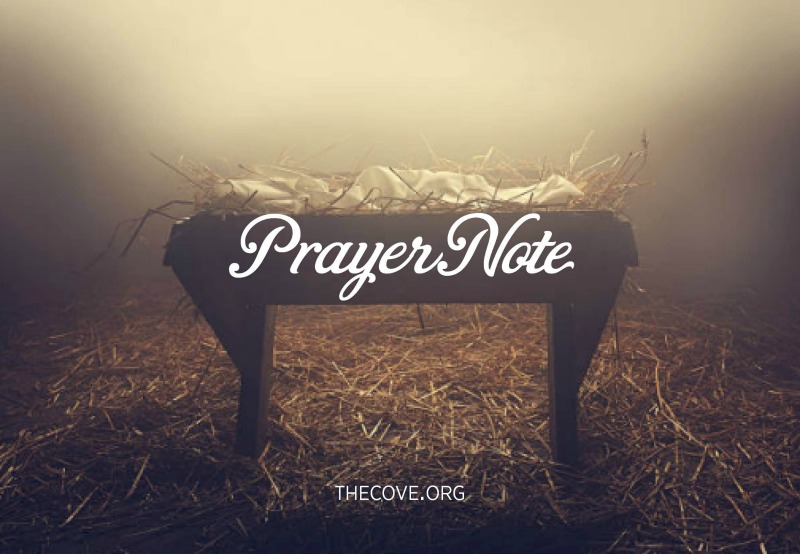 The Unlikely Arrival of a Savior
An Inconvenient Law
"And it came to pass in those days that a decree went out from Caesar Augustus that all the world should be registered. This census first took place while Quirinius was governing Syria. So all went to be registered, everyone to his own city" (Luke 2:1-3, NKJV).
It was a tough job keeping up with all of Rome's subjects throughout the known world; so the emperor made a decree—a law which proved inconvenient for many as they were required to travel great distances to their ancestral homes to register. Yet that same law—that inconvenient requirement sent down from the world's highest seat of power—was simply the means God used to fulfill one of the ancient prophecies of the coming of His Son. "But you, Bethlehem Ephrathah, though you are little among the thousands of Judah, yet out of you shall come forth to Me the One to be Ruler in Israel, whose goings forth are from of old, from everlasting" (Micah 5:2, NKJV).
The Savior whose birth we celebrate is the Son of God, the second member of the Trinity, eternally existing, not bound by time; yet "it came to pass" because of Him!  As we turn the calendar page to the month of December and face an already jam-packed schedule, we can pray a prayer of thanks that whatever comes to pass will be only what He has allowed. Even inconveniences may be priceless gifts that arrive wrapped in brown paper.
A Scandalous Story
"Joseph also went up from Galilee, out of the city of Nazareth, into Judea, to the city of David, which is called Bethlehem, because he was of the house and lineage of David, to be registered with Mary, his betrothed wife, who was with child"  (Luke 2:4-5, NKJV).
If you've recently turned off the evening news in favor of watching a Christmas movie, you're probably not alone. At this point we've all had our fill of scandals. Yet as we open the Bible and read the numerous accounts of shocking betrayals and shamelessly deceptive relationships we're reminded that scandals are not new. There were even whispers and rumors surrounding Jesus' birth, and these seemingly shameful circumstances of His conception were later used to mock and discredit Him by those who felt threatened by Him (see John 6:42, 8:41). Yet the fact remains that God in His wisdom chose to place His sinless Son in the womb of an unmarried young virgin. Christ's virgin birth, prophesied hundreds of years before it occurred, was a sign of His undeniable divinity. Why is the miracle of Jesus' virgin birth important? As Billy Graham has said, "It tells us that Jesus was indeed the divine Son of God, sent from Heaven to save us from our sins."
An Overbooked Inn
"So it was, that while they were there, the days were completed for her to be delivered. And she brought forth her firstborn Son, and wrapped Him in swaddling cloths, and laid Him in a manger, because there was no room for them in the inn" (Luke 2:6-7, NKJV).
We've heard the story a hundred times, yet the words "no room for them in the inn" still cause us to shake our heads in bewilderment. The divine Son of God, creator of the world, comes to be born in a body of flesh and finds no room? The "No Vacancy" sign reminds us that from His first earthly breath Jesus showed us His humility, identifying with us in our humanity. Rejection. Homelessness. Poverty. He experienced it all (see Philippians 2:5-8 and Hebrews 4:15).
A Fragile Peace
"Then the angel said to them, 'Do not be afraid, for behold, I bring you good tidings of great joy which will be to all people. For there is born to you this day in the city of David a Savior, who is Christ the Lord. And this will be the sign to you: You will find a Babe wrapped in swaddling cloths, lying in a manger.' And suddenly there was with the angel a multitude of the heavenly host praising God and saying: 'Glory to God in the highest, and on earth peace, goodwill toward men!'"
(Luke 2:10-14, NKJV)
Jesus may have been born during the time of peace known as the Pax Romana, yet the peace in Israel was one of heavy-handed domination by Rome. And although the vast empire was seemingly free from war, the fallen human race was still at war with itself due to the effects of sin. On the night the angels sang their majestic worship song to the audience of astonished shepherds, the world around them was filled with prejudice, oppression, abuse of power and religious hypocrisy.
The days we live in are much the same.  Nuclear missile tests…terror threats…political scandals…racial and cultural divides. Peace on earth? Goodwill toward men? Take a quick glance at social media and you'll find proof of an alarming lack of goodwill. Seething anger often simmers just below the surface, regularly boiling over and finding outlet in cruel and abrasive words sent via an innocuously named social media phenomenon known as a "Tweet."
Yet despite the lack of peace and good will, despite news reports of tragedies and scandals, despite illness, exhaustion and overcrowded schedules, we celebrate. Emmanuel has come.
A Timeless Truth
Every December we do it again. We pray that He would make the story come alive in our hearts. We pray that He would again fill us with a sense of mystery and wonder as we read the familiar words that tell us of His incarnation.
"Behold, a virgin shall be with child, and shall bring forth a son, and they shall call his name Emmanuel, which being interpreted is, God with us" (Matthew 1:23, KJV).
Emmanuel…God with Us. With us in our brokenness—the same brokenness that broke His heart as He wept at the tomb of Lazarus.
With us in our woundedness and lack of peace—the same woundedness that caused His wounds.  "But he was pierced for our transgressions; he was crushed for our iniquities; upon him was the chastisement that brought us peace, and with his wounds we are healed" (Isaiah 53:5, ESV).
Every December we close our eyes and pray for fresh tears as we hear the familiar story. Each Christmas we pray for fresh joy as we celebrate the advent of Emmanuel…God with Us. This is the Redeemer we celebrate. This is the God who hears us as we pray. This is the Savior who is with us as we serve.  Oh come, let us adore Him!
—Donna Riesen
---
We appreciate you joining us in prayer for the following events taking place on The Cove property during the month of November.
Oh come, let us worship and bow down; Let us kneel before the Lord our Maker.   (Psalm 95:6, NKJV)
DECEMBER CALL TO PRAYER
Christmas at The Cove with Point of Grace — November 30, December 1 & 2
SeniorSalt Impact Carol Sings — December 4, 11 & 12
Christmas at The Cove with Mark Schultz — December 7
Christmas at The Cove with Veritas — December 8
Christmas at The Cove with Michael O'Brien — December 9
Women's Christmas Luncheon with Lori Frank — December 10
The Glory of Christmas
 Christmas at The Cove with Phillips, Craig & Dean — December 12 & 14