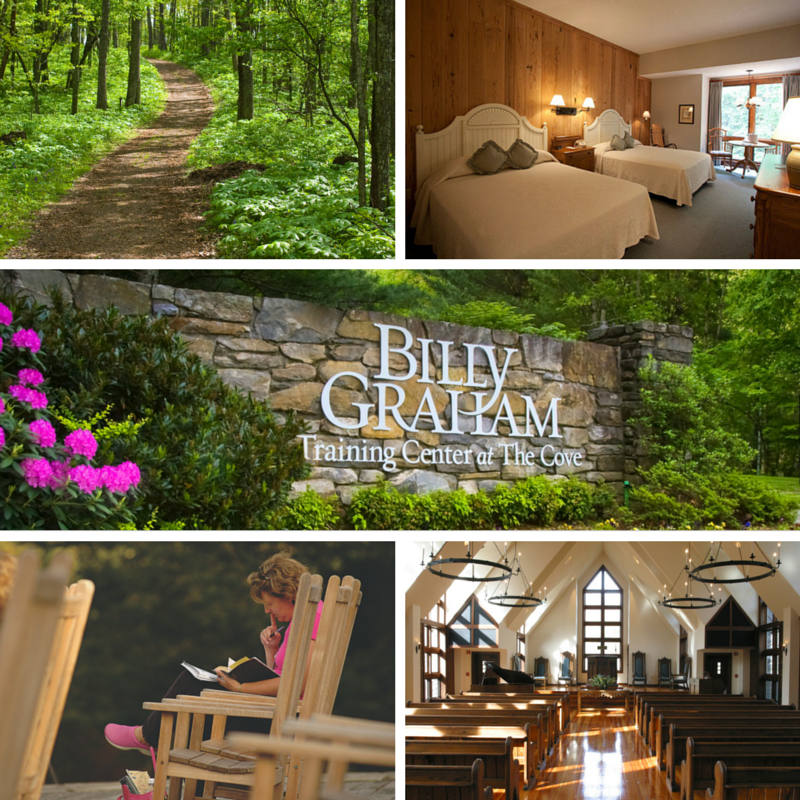 When Billy and Ruth Graham founded The Cove, they dreamed of a place where people could get away from the daily distractions of life and grow in their relationship with God.
Billy Graham prayed it would be a place of instruction, inspiration, intercession and impact.
Ruth Graham prayed it would be a haven for retreat, rest, relaxation and renewal, "where we can meet with the Lord Jesus personally and privately, and we'll never be the same again."
Our Personal Spiritual Retreats are designed to help facilitate your time alone with God. We've outlined some benefits you'll get from this special time:
Retreat. Life can make you grow weary. Sometimes you just need to step away from the daily distractions and rest in the care of Jesus.
He tells us to "Come away with me to a quiet place and get some rest." Mark 6:31
Renew. Do you ever feel like you need to start afresh? Sometimes coming before the Lord with all your baggage in tow and leaving it at His feet is all you need to renew your heart and spirit. A retreat at The Cove is a good place to begin this process.
"Create in me a clean heart, O God, and renew a right spirit within me." Psalm 51:10
Refresh. Refreshment can come in many forms. At The Cove, you will be refreshed with the care of our servant-hearted staff, from the delicious food to nourish your body, to the comfortable rooms that have been prayed over, to walking any of the 10 miles of trails throughout the property. As you enter our gates, you will feel the presence of God amidst the tranquility of our beautiful 1,200 acres on this mountain.
"I will lift up my eyes to the mountains; from where shall my help come? My help comes from the Lord, Who made heaven and earth." Psalm 121:1, 2 
Relax. When you're running on empty, it can be impossible to relax. Everything about The Cove is designed to offer you a place to rest and relax, from the comfortable furnishings throughout the property, to the serene stream meandering alongside the walking trails. Find a bench in the woods to sit and spend time with God.
Jesus said, "Come to me, all of you are weary and carry heavy burdens, and I will give you rest." Matthew 11:28
Impact. Allow God's Word to impact your life. Maybe you need to draw closer to your Savior. Maybe you would like to hear from Him in order to make an important decision in life. Spend time meditating on God's Word—it will never return void.
"For the word of God is living and powerful, and sharper than any two-edged sword." Hebrews 4:12
Intercession. You have the privilege of going straight to the throne of God. Spend time in prayer for others in your family, your community and around the world. Prayer is powerful. Delight your heavenly Father by praying in Jesus' name and without ceasing.
"Pray at all times in the Spirit with every prayer and request, and stay alert in this with all perseverance and intercession for all the saints."  Ephesians 6:18
Instruction. The Bible is your very own instruction book. Use it to learn more about God, His people and how He wants you live your life.
"Apply your heart to instruction, and your ears to words of knowledge." Proverbs 23:12
Inspiration. Do you have a decision you need to make? A move you are considering? A new project you are looking to embark on? Maybe you think your ministry needs to go in a new direction. Allow God to fuel you with His inspiration by spending time alone with Him prayer and in His Word. 
"I will hear what God the Lord will say." Psalm 85:8
Click here to find a time that will work for you to get away on a
Personal Spiritual Retreat.
Watch here as Dr. John Parrish shares what you can expect while attending a GUIDED Personal Spiritual Retreat.

Want to get away and participate in a Guided Personal Spiritual Retreat? Call 1-800-950-2092 to sign up while space is available!
Enjoy these testimonies from others who have taken part in a Personal Spiritual Retreat:
"I felt the presence of God from the time I drove onto the property. Nothing could be stronger or better than His sweet presence."
"I loved everything from the devotional, reflections, surrounds, staff, food and God's presence."
"This was far more than I imagined it would be, very emotional, powerful and moving."
"I would recommend it no matter the situation they are going through. It is enlightening and helps to strengthen your faith and walk with God."
"I was so richly blessed! May the Lord continue to guide you, encourage and equip you as you serve others. Blessings! May the God of hope fill you with joy and peace as you trust in Him so that you may overflow with hope by the power of the Holy Spirit. Romans 15:13"