"The chief end of man is to glorify God and enjoy Him forever." This quote is what worship is all about, says Rebecca St. James. And, that's the focus of her latest album entitled I Will Praise Him, which was released this spring.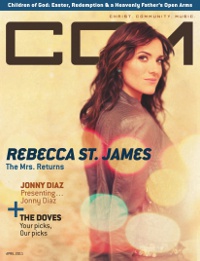 Australian born St. James has become one of Contemporary Christian Music's most enduring and beloved artists, embraced by audiences worldwide.  Her signature sound yielded 17 Top 10 singles (nine of which were No. 1) and two RIAA Gold Album certifications (commemorating sales of more than 500,000 units) for God (1996), as well as GRAMMY winning Pray (1999). 
Her new worship album might appear as a departure from her pop hits for which she's known, but actually she describes it as back to the foundation of her music. In a recent interview with CCM Magazine, she elaborates:  "My other albums, even those that I would consider more teaching or topical rather than worship are mostly all vertical in nature. There aren't that many that are just person-to-person. I think it's just kind of an essence of who I am. Even live, so much of what I do song-wise is directed to God."
You can experience Rebecca St. James live at The Cove on Aug. 11. Contact us today to reserve your seats!